CSKA Moscow, Euroleague Basketball honor basketball legend Theo Papaloukas
12
déc.
2013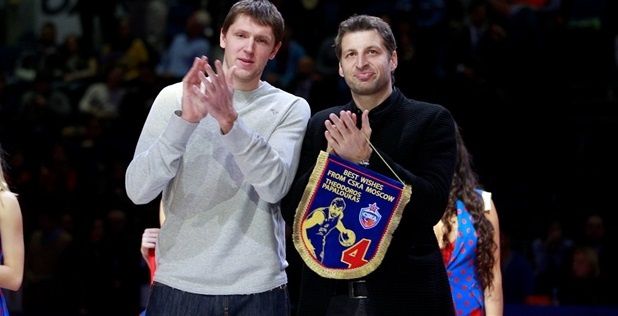 At the halftime break of the Round 9 Game of the Week between CSKA Moscow and FC Barcelona, Euroleague Basketball and the Russian club honored one of their most recognizable icons,Theo Papaloukas who retired last summer. In the ceremony, Papaloukas received a trophy from the hands of Euroleague Basketball Chief Operations Officer Ed Scott depicting the logo of the Turkish Airlines Euroleague for his contribution to the sport and the competition throughout the 11 years he was an active player.
Theo Papaloukas, 36, has been one of the most outstanding players in the Euroleague over the last decade. He still holds the record for most career games played (252) and assists (977) in the competition. He was a two-time champion, having won in 2006 at the Final Four in Prague and again in 2008 at the Final Four in Madrid, both times with CSKA Moscow. He was chosen Final Four MVP in 2006 and was also named MVP of the competition in 2006-07. Pops was an All-Euroleague First Team selection in 2005-06 and he selected to the Second Team twice, 2007-08 and 2008-09.
Papaloukas made his pro debut with Panionios Athens in the 1999-2000 season and stayed there for two full campaigns. Papaloukas arrived in the Euroleague in 2001-02 with Olympiacos Piraeus of his native Greece. After a good debut season he moved to Moscow to join CSKA, the club which would become his second home. He played there from 2002-03 to 2007-08, leading the team to the Final Four, almost always off the bench,in each of those seasons. After a successful run in CSKA, plus successes with the Greek national team (silver medal at 2006 FIBA World Championships in Japan), that earned him one of the top spots on the European basketball map, Papaloukas went back to Greece to re-join Olympiacos. He played there for three seasons, including two more Final Four appearances in 2009 and 2010. In 2011-12, Papaloukas switched Euroleague teams and joined another powerhouse, Maccabi Electra Tel Aviv, but injury problems only allowed him to play nine games that season. One year ago, in December of 2012, and with the season already running, CSKA Moscow announced that local hero Papaloukas would join the team again, also reuniting with Ettore Messina, his coach during the most successful CSKA years, who had in turn also returned to the Russian club. This time wearing number 44 instead of his eternal 4, Papaloukas would still squeeze in a last Final Four performance in London 2012. At the end of the season, Papaloukas announced his retirement after a successful career. After 1,724 points, 599 rebounds, 977 assists and 335 steals, Papaloukas will remain a legend in the Euroleague and European basketball. Thanks for the memories Theo!