Shareholders hear message of growth
23
oct.
2013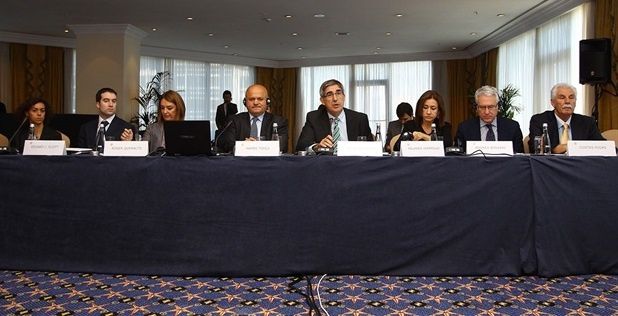 Fiscal health in the present and innovative plans for continued growth in the future were at the center of the message heard from Euroleague Basketball in presentations to the ECA Board and Shareholders Meetings in Istanbul, Turkey on Tuesday.
The meeting was preceded by the news that Turkish Airlines had renewed its title sponsorship of the Euroleague competition totaling a further seven years, until 2020. The shareholders reviewed the details of the new agreement with Turkish Airlines, one of the biggest sponsorship deals in basketball history.
The meeting participants also heard summaries of other partnership agreements for the next seasons. Among them is a new, two-year license and marketing agreement with 2K, producer of world-renowned video game NBA 2K14, in which 14 Euroleague Basketball teams are included this season. More Euroleague clubs and players are planned for next season.
There followed a review of Euroleague Basketball finances showing revenue growth last season that is due to increase by more than 8% in 2013-14 with the aforementioned new agreements, resulting in economic distributions to member clubs that will increase by an estimated 11.6%.
A review of the resolutions taken at the previous ECA Shareholders Meeting was presented, which included the enhancement of TV and content distribution in key markets through improved audio-visual rights deals in Euroleague markets, the creation of an audio-visual production center, and investment in media and local collaborators. The Shareholders also heard about new ways of commercializing clubs' rights, amongst other initiatives. A working time plan was shared and approved by the ECA Shareholders Meeting to conduct different studies throughout the season that should lead to the presentation of a strategic plan for the future.
Shareholders also reviewed the many off-season activities that Euroleague Basketball held between August and October, many in the category of training for clubs and professionals involved in the competitions. Those included workshops held for ticketing professionals, host broadcasting partners and statisticians, as well as Media Day sessions in which all 24 Turkish Airlines Euroleague teams were visited by Euroleague Basketball staff for several hours of video recording, photography and promotional activity.
Meeting attendees also heard reports about the Euroleague Basketball World Tour 2013 in early October, when three teams - Olympiacos Piraeus in Brazil, Real Madrid in China and CSKA Moscow in the United States - won four games out of five total played on three different continents. Euroleague Basketball staff said that plans for future tours are under study, with more pre-season games in China expected as part of a three-step strategy that includes increased TV coverage and new media presence, focusing on the market.