Around various European leagues
03
mars
2014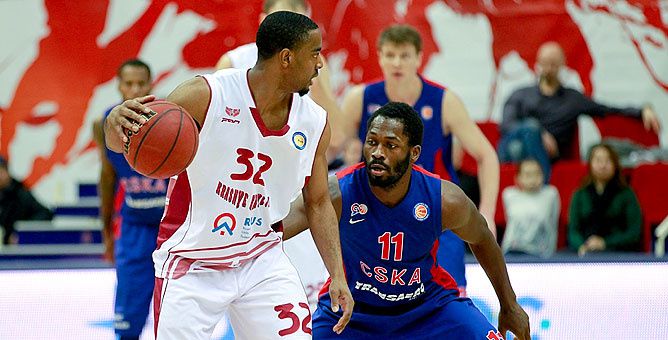 ABA LIGA 
Crvena Zvezda Telekom Belgrade kept control of first place by downing Mega Vizura 86-98 on the road to lift its record to 18-4. A three-pointer by Tadija Dragicevic late in the third quarter put the guests in front, 65-68, and they raced from there to the victory. Branko Lazic led Zvezda with 22 points, while Jaka Blazic had 17, Demarcus Nelson 15 with 5 assists, Dragicevic and Rasko Katic 14 each in victory. Buducnost topped Szolnoki Olaj 86-77 thanks to an amazing 35-12 run in the third quarter, after which the hosts rejected the comeback attempt of the Hungarian visitors in the last minutes. Nikola Ivanovic starred with 27 points and 5 for 7 three-point shooting, while Cedomir Vitkovac scored 16 more and Aleksa Popovic 13. Cedevita Zagreb downed Union Olimpija Ljubljana 75-60 to retain second place in the table with a 17-5 record. A strong 28-17 start helped the home team to take the lead and control the game, behind 19 points from Miro Bilan and 17 from Nolan Smith. Oimpija had 20 points from Alan Omic and 18 from Dino Muric. Partizan NIS Belgrade and Cibona Zagreb, both tied for third place, are among four teams playing Monday. 
BELGIUM 
The top four teams of the Belgian League table squared off Friday night with Belgacom Spirou and Liege Basket getting the best of their respective challengers, Belfius Mons-Hainaut and Telenet Oostende. Charleroi needed an extra session to edge Mons-Hainaut 89-87 after the guests forced the game into overtime with a three-pointer nailed by Demontez Stitt with seconds left in the fourth quarter. Darryl Watkins completed a three-point-play to take the lead for good on 77-74 while Demond Mallet sealed the success from the foul line. Mallet led the winners with 21 points and 7 assists. Watkins collected 18 points with 10 rebounds, while Devin Green scored 15. Talor Battle amassed 25 points, 9 rebounds and 3 assists and Stitt scored 23 for the visitors. Liege Basket downed Telenet Ostend 82-71 by holding the guests to just 8 points in the final quarter. Ostend had led 60-63 after 30 minutes and added the first basket of the fourth, a two-pointer by Mateusz Ponitika. A 16-3 run changed the momentum and Ioannis Iarochevitch gave a 76-68 lead to the hosts. Iarocevitch drained 24 points for the winners, while Ryan Thompson chipped in 20 and Wes Wilkinson 18 for Ostend. Charleroi now leads the standings with a 16-6 record while the other three teams have 15 wins each. 
FRANCE 
Le Mans kept its share of first place in the French League by defeating Cholet 83-72 to raise its record to 14-7. Three more teams of the five who started the weekend with 13 wins - Orleans, Limoges and Dijon - play Monday. The winners among them will share first place with Le Mans, which led Cholet all game by comfortable margins behind 18 points from Reyshawn Terry, 16 from DaShaun Wood and 15 plus 9 rebounds collected by Charles Kahudi. JSF Nanterre raised its record to 12-9 by downing Nancy 80-69. A 22-11 third quarter gave the hosts an enough margin to control the match in the last 10 minutes. Johan Passave-Ducteil starred with 21 points and 9 rebounds. Will Daniels and Xavier Corosine drained 14 points earh and Jeremy Nzeulie added 10. By holding its hosts to just 6 points in the final quarter, BCM Gravelines-Dunkerque took a 58-68 road win over Chorale Roanne as Steven Gary scored 14 points and Yannick Bokolo netted 13. Strasbourg continued struggling with a huge 66-85 home defeat against Asvel Lyon-Villeurbanne. Amara Sy's 23 points and 8 boards were the best for the winners, who took a 54-64 margin after 30 minutes and increased it in the final quarter. Bootsy Thornton posted 17 points and Tim Abromaitis 13 for Strasbourg. 
GERMANY 
FC Bayern Munich edged Phoenix Hagen 76-82 on the road to stay atop the standings with a 21-3 record. Bryce Taylor led FC Bayern Munich with 18 points, 9 rebounds and 5 assists. Nihad Djedovic added 15 points, Malcolm Delaney 14 with 7 assists and John Bryant collected 12 with 7 boards and 3 blocked shots. Free throws scored by Djedovic at 70-72 gave the visitors the lead for good. Boris Savovic also hit 2 of 2 foul shots to raise the cushion to 71-78 with 16 seconds left, sealing Bayern's victory. Brose Baskets Bamberg thrashed Oliver Baskets Wurzburg 104-66 to keep second place with a 19-3 record. Brose led 57-31 at halftime and 81-44 at the end of three quarters. Sharrod Ford paced the winners with 18 points, Anton Gavel nailed 17 with 5 assists, Rakim Sanders collected 17 with 7 rebounds and Casey Jacobsen 16 with 4 for 5 from downtown. Telekom Baskets Bonn took a thrilling 80-79 success over Eisbaren Bremerhaven as Jamel McLean put them in front on 77-76 and Eugene Lawrence hit a three that was answered by Arius Adams, but not enough for the guests to get the win. McLean netted 14 points and Ryan Brooks 13 in victory. 
GREECE 
Panathinaikos Athens continued its run atop the table by topping Aris Thessaloniki 71-59. A 24-12 second quarter broke the game in the Greens's favor as they led at halftime by 44-28. Zach Wright drilled 15 points, Roko Ukic and Loukas Mavrokefalides 11 each for the winners, while Antonis Fotsis pulled down 8 rebounds. Panionios got a large 73-87 road win over Ilysiakos in a back-and-forth game. The guests led 11-21 after 10 minutes, but the home team scored 33 points in the second quarter to lead 44-38 at halftime. After the third quarter finished tied 59-59, Panionios played perfect to finish in style. Erick McCollum paced the winners with 27 points, 5 assists and 5 steals, while Langdon Milbourne added 22. PAOK Thessaloniki edged Trikala BC Aries 82-77 as Kostas Charalampidis drilled 19 points with a perfect 12 for 12 from the foul line. Second-place Olympiacos Piraeus plays Monday. 
ITALY
EA7 Emporio Armani MIlan beat Umana Venezia 91-82 to raise its record to 16-5 and remain the uncontested leader of the table. The visitors led 44-46 at halftime, but Nicolo Melli's dunk gave a 54-51 advantage to the home team early in the third quarter. That was soon extended to 70-55 with a 16-4 run capped by a three-pointer from Alessandro Gentile, after which Milan never looked back. Daniel Hackett led the way with 19 points, Gentile drilled 16 and Samardo Samuels added 14. Cantu topped Vanoli Cremona 87-72 to hold third place with a 14-7 record. A 27-4 second quarter leading to a 52-30 lead at halftime put the game in the hands of Cantu, which made 10 of 19 three-point shots. Joe Ragland netted 19 points as Cantu's main contributor, while Stefano Gentile added 14 and Pietro Aradori 13. Montepaschi Siena thrashed Sutor Montegranaro away 50-78 as Erick Green bagged 16 points, Marquez Haynes 14 and Jeff Viggiano 10. Banco di Sardegna Sassari routed Victoria Libertas Pesaro 102-78 behind 25 points of Drake Diener and 16 plus 7 rebounds amassed by Caleb Green. 
LITHUANIA
LIetuvos Rytas Vilnius took back-to-back victories to stay unbeaten at 13-0 atop the table. On Wednesday night, Rytas downed visiting Lietkabelis 85-74 by using a 28-14 first quarter to make the difference. Juan Palacios amassed 20 points, 8 rebounds and 4 assists for an index rating of 34. Martynas Gecevicius scored 15 more and Gediminas Orelikas 12. On Friday night, Orelikas scored the game-winning layup with just 3 seconds left, giving Rytas an 82-83 success over LSU Atletas. The home team led 82-72 with 47 seconds but an outstanding 11-0 run by the visitors gave them an incredible success. Gecevicius opened the run from downtown, while Ronnie Seibutis made it 82-81 from the foul line with 12 seconds remaining in the game. Seibutis netted 21 points with 7 rebounds and 7 assists for an index rating of 33. Palacios posted 18, Gecevicius 17, Darius Songaila and Orelikas 10 in victory. 
SPAIN
Real Madrid remains the unbeaten leader of Spanish League after topping Iberostar Tenerife 87-76 with an amazing 33-17 last quarter after the guests had led 54-58 through 30 minutes. Sergio Rodriguez led the winners, collecting 22 points and 5 assists. Sergio Llull added 20 with 4 assists and 3 steals and Felipe Reyes bagged 18 points. Valencia continued in second place with 18-3 record after downing Laboral Kutxa 67-55 thanks to a great defensive effort in the second half, when they limited the visitors to just 20 points. Bojan Dubljevic scored 17 points, Justin Doellman 15, Rafa Martinez 11 and Romain Sato 10 for Valencia. Tibor Pleiss collected 12 with 8 rebounds and Thomas Heurtel 11 for Laboral. FC Barcelona edged Unicaja Malaga on the road 69-74 by scoring the last 6 points of the game. With 2 minutes left, Carlos Suarez had put Unicaja in front 69-68. Juan Carlos Navarro scored just 1 of his 2 free throws for a 69-69 tie, but in the last minute a jumper from Victor Sada and a triple from Brad Oleson ensured the victory for the visitors. Oleson netted 11 points and Sada 10 for Barcelona, while Navarro had 9. Suarez led all the scorers with 15 points, Jayson Granger posted 11 with 6 assists and Ryan Toolson 10 for Unicaja. CAI Zaragoza took a 72-81 road success with a 20-29 last quarter. Henk Norel paced the winners with 14 points, while Michael Roll, Jon Stefansson and Viktor Sanikidze chipped in 13 apiece. 
TURKEY
By taking a 70-79 road win over Konya Selcuk University, Banvit Bandirma kept first place in the table with a 19-1 record. A 12-22 third quarter gave the visitors the momentum to stay ahead the rest of the way. Banvit got 25 points from Keith Simmons, while Charles Davis and Stefan Markovic added 11 apiece and Sammy Mejia 10. A strong start helped Besiktas Integral Forx to beat Trabzonspor Medical Park 79-87 away. Kenan Bajramovic dominated underneath by scoring 26 points while Chris Lofton drained 16. Aleksandar Rasic bagged 15 points while Vladimir Golubovic collected 15 points and 10 rebounds to lead Aykon TED Ankara to an 85-70 success over Mersin BSB. The national cup winners of Pinar Karsiyaka raised their record to 12-8 by thrashing Aliaga Petkim 89-65. A 48-34 partial score over the two quarters bridging halftime made the difference. Jawad Williams and Baris Hersek chipped in 13 points each while Esteban Batista amassed 11 with 9 boards. Anadolu Efes Istanbul dropped to 14-6 with a slim 73-68 road defeat against Usak Sportif. A great offensive effort of 27 points by the hosts in the last 10 minutes them the success behind 18 points nailed by Elijah Holman. The main contributor for Efes was Birkan Batuk with 16 points. Zoran Planinc had 15 with 6 assists, Milko Bjelica 14 while Kerem Gonum grabbed 14 rebounds. Galatasaray Liv Hospital Istanbul routed Turk Telekom 89-65 to share third place with Anadolu Efes. After a balanced first half, tied 41-41, the home team's defense held Turk Telekom to just 10 points in the third quarter to break the game in its favor. Zoran Erceg tallied 17 points, Posp Mensah-Bonsu collected 14 with 10 rebounds, while Huseyn Koksal, Malik Hairston and Ender Arslan bagged 11 each for Galatasaray. Second-place Fenerbahce Ulker plays Monday. 
UKRAINE
Budivlenik Kiev raised its record to 13-6 by thrashing BC Kyiv 93-67 in the capital derby. Ten players scored almost 13 points each for the winners: Darjus Lavrinovic had 15, DaJuan Summers and Michailis Anisimovas 13 each, while Aleksandr Tishchenko chipped in 12 with a perfect shooting performance, 3 for 3 on two-pointers and 3 for 3 from downtown. Khimik Yuzhne ran away early to a 76-63 victory over Cherkasy to keep hold of second place. Yuzhne led 50-21 at halftime and was never threatened on its way to victory. 
VTB UNITED LEAGUE
CSKA Moscow raised its record to 14-2 by edging Krasnie Krilya Samara 81-77 after taking the lead at 58-55 on Andrey Vorontsevich's three-pointer. The guests led 41-43 at halftime, but Vitaly Fridzon and Sonny Weems hit jumpers that immediately put CSKA in front coming back from the lockers. The hosts got a double-digit margin, 66-55, early in the last quarter with Vladimir Micov helping to hold back the comeback attempts made by the visitors. Micov paced the winners by scoring 17 points, while Nenad Krstic posted 14 and Vorontsevich drilled 13 and Fridzon 12- Milos Teodosic distributed 9 assists.