Which the Roja and Croatia win the bronze medal?
22
sept.
2013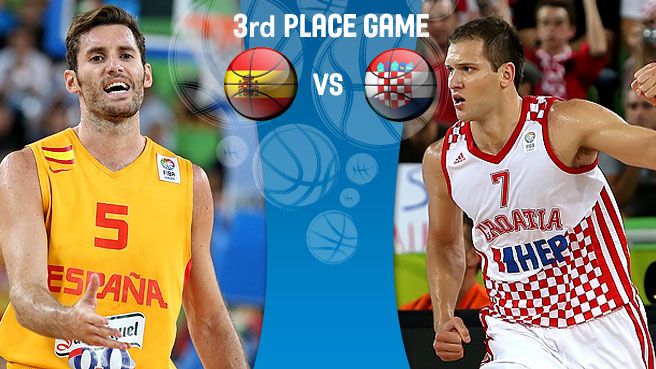 Two-time European champions Spain and Croatia, a nation that has partially scratched an 18-year itch at EuroBasket 2013, find themselves clashing in the most particular game of the entire tournament on Sunday.
It is, as the cliché goes, the only game that no one wants to play in but neither of the two teams that actually play it want to lose it.
Croatia's motivation to win this contest is rather evident; This proud nation had not reached the semi-final stage since EuroBasket 1995 and now have a shot at the bronze medal.
In 1995, incidentally, Croatia defeated Greece 73-68 to take the third spot on the podium.
But there is a higher motive at play for Croatia, and it has to do with far more recent history.
On the opening day of Group C action in this EuroBasket, on 4 September, Spain embarrassed Croatia 68-40 in front of a sizeable contingent of travelling Croatian fans.
Croatia went on to string together an eight-game winning streak, the longest in the tournament, until they fell to Lithuania in the semi-final on Friday.
"I literally told my players ahead of the semi-finals 'give me a chance to play once again against Spain,'" Croatia head coach Jasmin Repesa revealed on Saturday.
"Now that you know how the other semi-final (between France and Spain) went, you may say that they lost only to satisfy my desire," Repesa added jokingly.
"But it would be an injustice if we did not get another chance to play against Spain.
"We owe it to our fans and ourselves, we have 40 minutes left in this championship and we want to show that they are not invincible.
"Our goal is to leave the right image of the Croatian national team."
But what about Spain? With the exception of Pablo Aguilar, German Gabriel and Xavi Rey, who have only collected silverware at youth level, the rest of the team have enough gold medals between them from EuroBasket 2009, EuroBasket 2011 and the 2006 World Championship to open a jewellery shop.
"There is still a positive, that we have another game to win a medal," said veteran guard, Jose Manuel Calderon, who stepped on the top of the podium in both 2006 and 2011.
"And it's a medal that many people will never win.
"Yes, it's bronze, and maybe we are accustomed to it being a bit more shiny.
"But I remember EuroBasket 2005 [against France] when we played bad and lost the 3rd-place game and I still regret that we didn't win, that we didn't earn one more medal for this generation."
Stats Don't Lie: Despite their semi-final loss to France, Spain still have the best defence at EuroBasket 2013, conceding only 62.5 points-per-game on average. Croatia's 40-point output in the opening day clash was by far their worst offensive showing in the tournament, and they now score an average of 73.9 points-per-game, just three less than Spain.
Key Match-Up: Rudy Fernandez vs. Bojan Bogdanovic at the small forward spot. Fernandez is Spain's second-leading scorer with 12.4 points-per-game and Bogdanovic leads Croatia in scoring with 16.9 points on average. The two wingers were the best performers of their respective teams when the two teams clashed on 4 September, as Fernandez collected 15 points and eight rebounds and Bogdanovic picked up 12 points and seven boards.
They Say:
Spain head coach Juan Orenga: "There is Bogdanovic but also [Dontaye] Draper, [Luka] Zoric, [Ante] Tomic, [Damjan] Rudez are all now playing much better. I think that first game was a turning point for them, they've grown, they won eight games by defending better and playing very good basketball. Bogdanovic can still tip the balance in certain situations, like when he goes inside and posts up, but also [Roko Leni] Ukic is assuming responsibility in decisive moments.
Croatia head coach Jasmin Repesa: The game with Spain will not be won on tactics. It will be more important to stay focused because their offensive concept comes down to small details. We need to remain in the game for all 40 minutes because they lost every game in the clutch. I do not know if it was because of fatigue or something else, but we need to prolong the suspense. And we should not trust that they are not motivated to fight for bronze. They are players with character that will want a medal."