Vassilis Spanoulis named MVP of the week
07
déc.
2013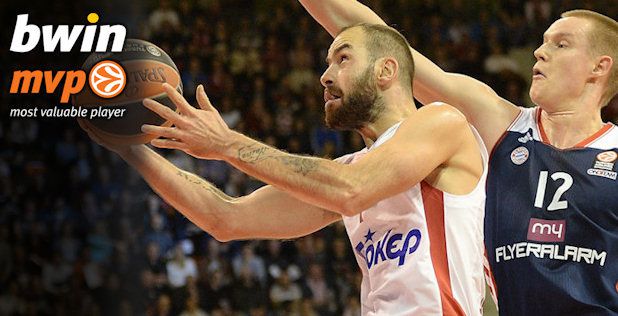 The Euroleague's highest-scoring non-overtime game in nine years also produced a very special bwin MVP for Regular Season Round 8: Vassilis Spanoulis of Olympiacos Piraeus. The two-time defending champion remained unbeaten by outlasting host Bayern Munich 103-105 in a thriller Thursday, as the reigning Euroleague MVP Spanoulis scored a season-high 24 points. He shot 4 of 5 for two points, 4 of 7 from behind the arc, and 4 of 5 from the free throw line. Spanoulis also dished 7 assists, grabbed 2 rebounds and drew 5 fouls for a performance index rating 29, the highest among players on winning teams in Round 8. The top index rating of the week comes from the same game, as Malcolm Delaney of FC Bayern Munich amassed 32. Delaney scored 22 points with 6 assists, 5 rebounds, 2 steals and 10 fouls drawn. Two players finished with performance index ratings of 28, Stratos Perperoglou of Olympiacos and Bogdan Bogdanovic of Partizan NIS Belgrade. Perperoglou netted a career-high 25 points off the bench, along with 4 rebounds, 4 fouls drawn, an assists and a steal. Bogdanovic paced Partizan with 15 points, 10 assists, 6 rebounds and 5 steals, keeping alive the Serbian champ's hopes of advancing to the Top 16. Rounding out the week's top performances was Lamont Hamilton of Laboral Kutxa Vitoria with index rating 27. In his team's Top 16 clinching 79-63 victory over Lietuvos Rytas, Hamilton collected 17 points, 5 rebounds, 2 steals, a block, and assist, and 6 fouls drawn.
MVP Video
Individual leaders: Bogdan Bogdanovic of Partizan NIS, 10 assists and 5 steals
Perperoglou was the week's highest scorer with 25 points. Bojan Bogdanovic of Fenerbahce Ulker Istanbul reclaimed the top spot among regular season scorers with 18.4 points per game. Furkan Aldemir of Galatasaray Liv Hospital Istanbul pulled down 12 rebounds to lead all rebounders in Round 8. His suspended teammate Pops Mensah-Bonsu leads the competition with 11.4 per game, and Joffrey Lauvergne is behind him with an average of 10.4 rebounds per night. Bogdan Bogdanovic dished a career-high 10 assists, more than any other player this week. Dimitris Diamantidis of Panathinaikos Athens retains the league lead with 7.1 assists per game. Bogdan Bogdanovic also led all players in Round 8 with 5 steals. Jamon Gordon of Anadolu Efes Istanbul has 2.4 per game, the best steals average in the league. Salah Mejri of Real Madrid and Do'r Fischer of Brose Baskets Bamberg shared the weekly lead with 4 blocks apiece. Bryant Dunston of Olympiacos leads all players with an average of 1.9 rejections per game. The only double-double of the week belonged to Bogdan Bogdanovic.