Vassilis Spanoulis, named bwin MVP of the 2012-13 Turkish Airlines Euroleague
09
mai
2013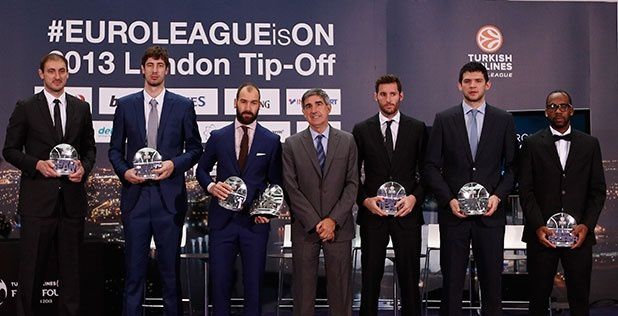 Vassilis Spanoulis, named bwin MVP of the 2012-13 Turkish Airlines Euroleague
Vassilis Spanoulis of Olympiacos Piraeus was named 2012-13 bwin Euroleague MVP at the EFES Euroleague Awards Ceremony held at the City Hall in London, England on Thursday. The day before the semifinals tip-off at The O2, the best players from the Final Four teams gathered with the rest of the global basketball elite attending the 2013 Turkish Airlines Euroleague Final Four. The attending members of the All-Euroleague First Team received their awards too, but it was Spanoulis who walked away with the biggest of them all. Spanoulis joined Nenad Krstic of CSKA Moscow, Ante Tomic of FC Barcelona Regal and Rudy Fernandez of Real Madrid plus former Euroleague MVP Dimitris Diamantidis of Panathinaikos Athens on the All-Euroleague First Team. Kostas Papanikolaou of Olympiacos received the Rising Star award and Bobby Brown of Montepaschi Siena was on hand to pick up the Alphonso Ford Top Scoring trophy. Tomic and Fernandez were each named to the All-Euroleague team for the first time in their respective careers. Diamantidis claimed First Team honors for the fourth time, while Spanoulis and Krstic each received First Team trophies for the second time. Spanoulis, a two-time Final Four MVP in as many appearances in the event, was chosen as the Euroleague MVP for the first time.
Impressive as they are, statistics only tell part of the story for Spanoulis, who is the unquestionable leader of defending Turkish Airlines Euroleague champion Olympiacos Piraeus. Spanoulis, 30, is the ultimate combo-guard, who can lift his team with his scoring and passing, which go hand in hand to plague opposing defenses. He ranked among the league leaders in both categories, placing fourth in scoring (14.7 ppg.) and third in assists (5.59 apg.). The inability to guard Spanoulis is well represented by the fact that he led the league in fouls drawn (5.41 per game). All told, he is ninth in the league in average performance index rating (15.4). Spanoulis got the Reds rolling early this season and was duly rewarded as bwin MVP for November. He scored at least 9 points in every game before the playoffs, and when his shooting slumped in the series against Anadolu Efes, Spanoulis took over to lead the playoffs in assists (6.6 apg.). Now in his third season with Olympiacos, Spanoulis is also a two-time Euroleague champ, two-time Final Four MVP. This marks his fifth All-Euroleague selection.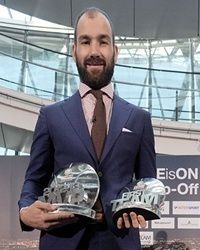 "It is nice to win the MVP because the team made it to the Final Four and this is most important." Spanoulis said. "Winning an individual award is good but if your team also succeeds, it is a double pleasre. The team made it to the Final Four and we have the chance to do something good this year. You have work hard and be emotionally balanced with my feeling, not be too much up and down and every harder and harder, see your mistakes and improve every day."