Euroleague stars celebrate upcoming NBA 2K14 release!
24
sept.
2013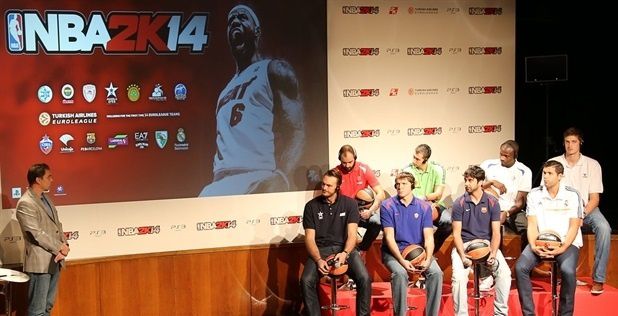 Superstars of the Turkish Airlines Euroleague were shining in Madrid, Spain on Tuesday to celebrate the upcoming release of NBA 2K14.
A new exclusive multi-year global partnership agreement between 2K Sports and Euroleague Basketball means that Turkish Airlines Euroleague teams will appear for the first time in the newest edition of the top-selling and top-rated basketball video game simulation franchise.
Players attending the NBA 2K14 pre-launch party in Madrid on Tuesday included three current or former Turkish Airlines Euroleague MVPs: Dimitris Diamantidis of Panathinaikos Athens, Juan Carlos Navarro of FC Barcelona and Vassilis Spanoulis of Olympiacos Piraeus. Representing the hometown club, Real Madrid, was former world champion Felipe Reyes. Former All-Euroleague selections Viktor Khryapa of CSKA Moscow and Shawn James of Maccabi Electra Tel Aviv, Tibor Pleiss of Laboral Kutxa Vitoria and Semih Erden of Anadolu Efes Istanbul also attended to try out the new game and speak with the media about being part of it for the first time.
NBA 2K14 is due to launch with 14 Turkish Airlines Euroleague teams on October 1 in the United States and October 4 across Europe. Release dates for Xbox One and PlayStation 4 are set for November 15 and 22, respectively.
Here's what the Euroleague stars had to say about what fans can expect from NBA 2K14:
Felipe Reyes, Real Madrid:
"I think that fans will enjoy this a lot. I think it is a good initiative that will make many people who didn't play this kind of game before buy it now in order to be able to play with their favorite teams. They will enjoy creating Euroleague matchups as well as facing off Euroleague teams against NBA teams."
Viktor Khryapa, CSKA Moscow:
"I think this is very important because previous experience with football and NBA games shows that many people have the chance to play the game without knowing the players or even the teams. It's pretty exciting and I am looking forward to seeing this product in the stores."
Shawn James, Maccabi Electra Tel Aviv:
"I think fans are really going to enjoy this. For the chance of putting great European teams against the NBA teams and having the option to play with their favorite team, I think the fans will enjoy it a lot."
Vassilis Spanoulis, Olympiacos Piraeus:
"There are a lot of people over the world who play this game, it's very global. You know, all the kids and basically people of all ages can play this game, so it's important for Euroleague teams that fans have the chance to play with their favorite teams and players. It's very interesting for everybody, to have all the teams in this nice game."
Tibor Pleiss, Laboral Kutxa Vitoria:
"It's great: I talked with a lot of people and teammates about this game. It's going to be great! You can play with your teammates, different teams and also against NBA teams. It's something special and something new."
Juan Carlos Navarro, FC Barcelona:
"Who doesn't like to be in a game surrounded by big stars? People tell me about it in the street. For us, it is an honor being there and at the same time get closer to the NBA and be more interrelated to it."
Dimitris Diamantidis, Panathinaikos Athens:
"For me, I don't have a big relationship with videogames. I hope people will like it. The characters are so good and the realism of the players is pretty good."
Semih Erden, Anadolu Efes Istanbul:
"It's very exciting to be in the game, and I think fans will be excited, too. I think this is important for every team because the NBA is a big company and it's important for Anadolu Efes to be involved in something like this. It was the first time I tried the game and I am not still very good at it, but soon I will be!"