Turkish Airlines, Euroleague Basketball cement partnership through 2020
22
oct.
2013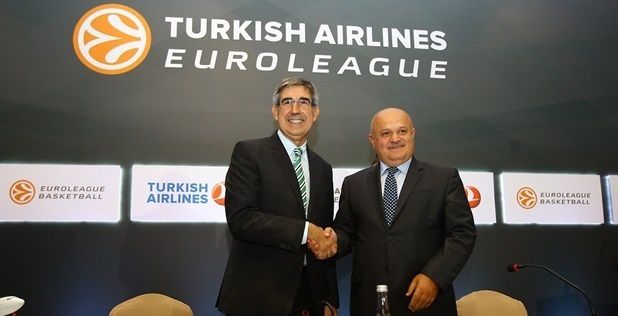 Europe's premier competition to be called Turkish Airlines Euroleague for full decade.
Partners look to strengthen, build upon innovative collaborations like One Team
A groundbreaking relationship that has boosted the worldwide visibility of elite European basketball like never before will grow even bigger following the announcement today in Istanbul that Turkish Airlines and Euroleague Basketball will continue their unique partnership and title-sponsorship agreement for seven more seasons through 2020. The new agreement, one of the biggest sponsorship deals in basketball history, means that Europe's premier competition will be known as the Turkish Airlines Euroleague for an entire decade from the start of the original partnership in 2010.
During their first three years together, Euroleague Basketball and Turkish Airlines went beyond title sponsorship to build a collaboration whose innovations range from award-winning social media promotions to mass-market documentary film productions and live in-flight game broadcasts.
A centerpiece of their fast-growing relationship was added in 2012 as Turkish Airlines became Founding Partner of Euroleague Basketball's corporate social responsibility programme, One Team, which has subsequently won praise across the sporting and charity industries for using sports to empower disadvantaged communities in cities from London to Beijing and everywhere in between.
"First, let me thank Turkish Airlines for proving itself to be the exact type of forward-thinking, fully-engaged partner needed to help our sport improve off the court as much as our basketball professionals have done on the court this century," Jordi Bertomeu, the President and CEO of Euroleague Basketball, said in Istanbul. "Our new agreement will assure that not only the relationship between Euroleague Basketball and Turkish Airlines will continue to get bigger and better, but that together we can provide our hard-working clubs and devoted fans with the elite competition they deserve."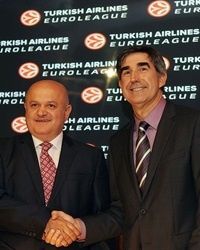 2010 - Hamdi Topçu, Turkish Airlines Board Chairman, joins Jordi Bertomeu, Euroleague Basketball President and CEO, at the official partnership launch at Casa Fuster in Barcelona.
"Strengthening the corporate cooperation initiated in 2010 with Euroleague Basketball, Europe's top-level basketball event and one of the most popular basketball organizations in the world, is a strategic step in enhancing the prestige and brand awareness of Turkish Airlines on a global scale. Building the brand appeal of Turkish Airlines across the world is one of the desired results as Turkish Airlines moves towards the goal of excellence in the international aviation industry. There is great value in this kind sponsorship as Turkish Airlines increases its brand awareness among the target audience. This and similar partnerships offer the opportunity to develop a different kind of communication with a global audience, keeping alive the brand excellence with consumers not only in Turkey, but across the world," said Turkish Airlines' Board Chairman Hamdi Topçu in his speech.
Two of its feature components illustrate how the Euroleague Basketball-Turkish Airlines partnership has already brought the continent's basketball elite to new audiences in innovative ways.
Eye of the Fan, a multi-platform social media initiative by Turkish Airlines, won awards in the marketing industry for its revolutionary creative approach to giving the at-home Turkish Airlines Euroleague audience a round-the-clock experience behind the scenes at the Final Four.
The four-part film documentary Basketball Capitals, a branded-content project co-produced by Turkish Airlines and global sports media leader ESPN, reached an audience of more than 160 million households in Europe, the Middle East and Asia and starred fans in Berlin, Madrid, Athens and Istanbul telling the story of basketball passion in their cities.
Among other initiatives pursued together with Euroleague Basketball, Turkish Airlines has also been a driving force in bringing expansive, weekend-long Fan Zones to iconic locales like Trafalgar Square in London that take the Final Four beyond the playing arena and into the commercial and tourist centers of the event's host cities.
Among the new features in the agreement is Turkish Airlines receiving partnership rights also for Euroleague Basketball's second competition, the Eurocup, for the duration of the contract.
"For Euroleague Basketball, working daily with Turkish Airlines has been much more than a partnership," Mr. Bertomeu said. "We are collaborating hand-in-hand to enhance the profile of European basketball globally and to bring its benefits to the communities that both Turkish Airlines and Euroleague Basketball depend on and seek to serve better. I couldn't be happier to have Turkish Airlines as a true member of the European basketball family, which makes the future of our sport here more promising than ever."