The Thunder needed against Fenerbahçe Ulker
05
oct.
2013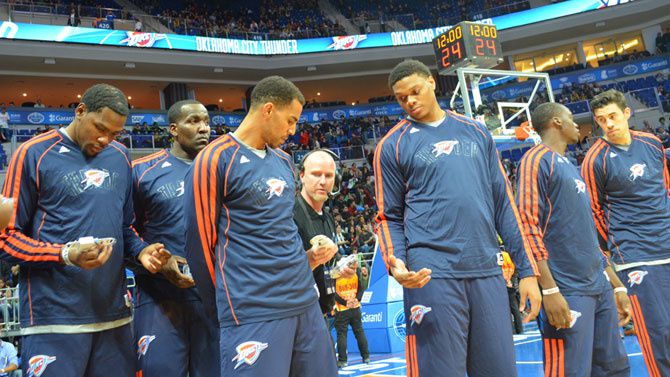 The NBA powerhouse Oklahoma City Thunder defeated Fenerbahce Ulker Istanbul 81-95 atUlker Sports Arena on Saturday, in the opening game of the NBA Global Games Europe series. The game in Istanbul is followed by a clash between Uxue Bilbao Basket and Philadelphia 76ers in Bilbao on Sunday, before the Thunder faces the 76ers in Manchester, England on Tuesday, October 8. Fenerbahce hit 5 triples to open up an early 20-10 lead, but Oklahoma City rallied behind Kevin Durant, taking the lead for good late in the second quarter, and never looked back. Durant led all the scorers, finishing with 24 points plus 8 rebounds, while Serge Ibaka scored 15 points in victory. Bojan Bogdanovic netted 19 points, hitting 4 triples in defeat, while Bo McCalebb had 13 points. Emir Preldzic and Linas Kleiza chipped in with 9 apiece for Fenerbahce.
First quarter: Fenerbahce hits 5 triples for a double-digit lead
After Ibaka and Preldzic traded baskets to start the game, Luka Zoric hit a jumper and Kleiza a triple for 7-2. Durant opened his account with a triple, but Bogdanovic answered right back from downtown, before a layup from Kleiza converted a perfectly executed fast break, in which all five Fenerbahce players took part, for 14-8. Following a timeout, back-to-back tripless from McCalebb extended it to 20-10, before Thunder's Reggie Jackson strung together five points, halving the deficit. But before quarter's end, Bogdanovic nailed his second triple to keep the margin safe, and Metecan Birsen finished the quarter with a turnaround floater for 28-20 after 12 minutes.
Second quarter: Durant scores 13 points, rallies the Thunder
In the early going of the second quarter, Zoric and Melih Mahmutoglu scored on one end, while Jeremy Lamb and Nick Collison made close-range baskets on the other. After Preldzic drove for a layup, he followed it with a no-look asist for a Birsen layup, and 37-28. But Durant orchestrated Thuder's 0-11 run that gave them lead. Durant sparked things with a jumper and a baseline two-handed slam, and after Hasheem Thabeet had a layup-plus-foul, Durant 's driving layup put the visitor in front 37-39. McCalebb ended Fenerbahce Ulker draught, and Preldzic hit a three-pointer from the left corner, but that's all the points the hosts managed before halftime. Meanwhile, Durant scored 6 more, including an alley-oop dunk, and banking in a difficult buzzer-beater from 4 meters, putting the Thunder up 42-48 at halftime.
Third quarter: Thunder pulls away to a double-digit lead
Despite a triple from Bogdanovic, Thunder opened a 45-54 margin through Ibaka and Thabo Sefolosha at the start of the second half. Basket-plus-foul from McCalebb got the hosts within 50-54, but Steven Adams scored 6 points from close range to keep Fenerbahce from getting any closer. A fastbreak layup from McCalebb, and fourth triple from Bogdanovic, helped cut it to 61-63, but Sefolosha and Durant kept Thunder ahead with monster dunks, and Lamb hit a three-pointer to finish the quarter, putting the visitors into double-digit lead for the first time, 65-75
Fourth quarter: The visitors close the game out
Lamb opened the final quarter with a jumper for a 12-point lead, and Ibaka led the way as margin reached 68-83. With the game getting out of hand, Fenerbahce head coach Zeljko Obradovic sent up-and-coming players on the court, Birsen, Sipahi, Mahmutoglu, Izzet Turkyilmaz and Ayberk Olmaz. Birsen and Mahmutoglu hit short jumpers, and after Andre Robertson's basket, Mahmutoglu sunk a three-pointer for 77-89. In the closing minutes, lead reached 16 points after dunks from Perry Jones and Lamb, before Turkyilmaz rounded out the scoring with a long jump-shot for 82-95.