The band Florent Pietrus she finally win a gold medal?
22
sept.
2013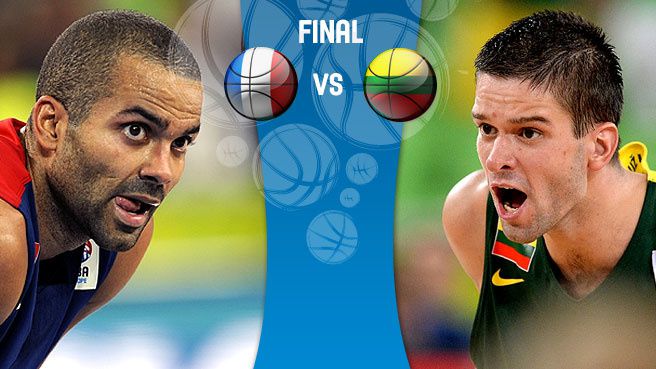 Will France and Tony Parker finally capture their first European title or will Lithuania be celebrating their fourth EuroBasket crown ten years after winning their last gold medal?
The journey for these two teams started back on 4 September as two of 24 teams dreaming of hoisting the trophy into the skies over Ljubljana.
Sunday's final at 9p.m. CET in Stozice Arena is for all the glory.
Should France win two years after losing to Spain in the final, Les Bleus would become the first first-time champion since Germany shocked the European basketball landscape with their title in 1993.
A French title would be anything but surprising after three semi-final showings between 1999 and 2005 - with the 2005 bronze the only hardware to show from that stretch. France finally broke through to the final at Lithuania 2011 but could not overcome Spain.
After doing their best Jekyll and Hyde impression over the first two weeks of this competition, France played two different halves of basketball against Spain in the semis. Most importantly they saved the better hoops for after halftime, and the Blues got the Spanish monkey off their backs.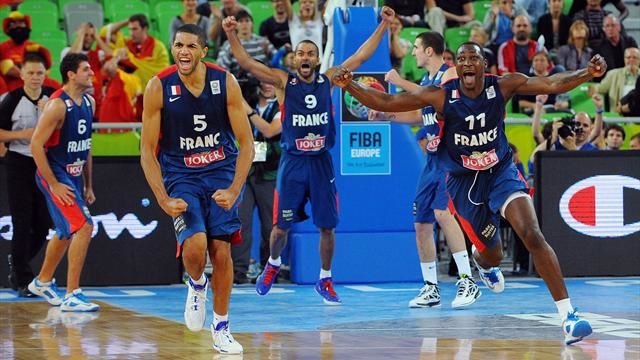 French coach Vincent Collet will not need to do too much motivating - it's a EuroBasket final after all. But the French will have to forget about finally slaying their red dragon and focus on the green brigade awaiting them in the final.
Tony Parker showed against Spain that he's unstoppable and will likely be close to the same against Lithuania. The NBA superstar will definitely show up.
France fans however are still asking themselves where Nicolas Batum was in the semi-final after scoring just three points on four three-point attempts while committing three turnovers and not grabbing a single rebound in 23 minutes. A bounce-back is all but a certainty for the NBA star.
The third member of France's big NBA trio Boris Diaw played a solid game despite shooting struggles. The power forward will be needed against Lithuania's big front line.
Lithuania hold a slight 7-6 advantage in international games between the twos sides. The teams have recently met in the First Round of the 2010 FIBA World Championship, EuroBasket 2011 and the 2012 Olympics - with France winning the past two summers and Lithuanian getting the win in Turkey in 2010.
The biggest game came at EuroBasket 2003 when Lithuania knocked off France in the semi-finals - before beating Spain in the final. France's biggest win over Lithuania came in the EuroBasket 2005 quarter-finals.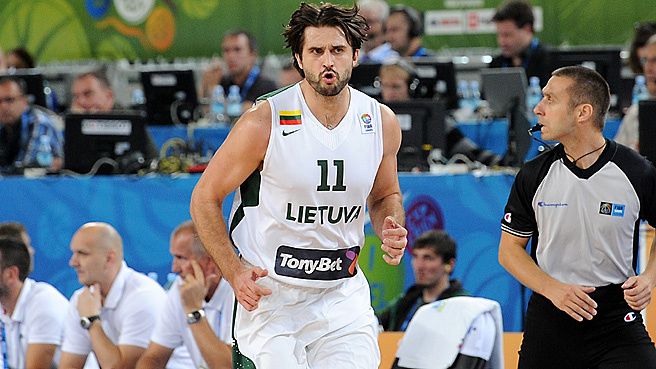 11. Linas Kleiza (Lithuania)
Linas Kleiza began the tournament slowly for Lithuania but has gone from strength-to-strength since arriving in Ljubljana for the Second Round. These teams met in the Second Round of this EuroBasket on September 11 with Lithuania winning 76-62. The Lithuanians went 0-for-9 from three-point range in the first half but woke up from long range hitting 5-of-10 after the break to grab the win.
Lithuania now look to add trophy number four following titles in 1937, 1939 and 2003 but will at least put a second silver next to the second place from 1995.
Lithuania book-ended their three First Round victories by an opening loss to Serbia and a defeat to Bosnia & Herzegovina with the second loss almost sending them home.
The players held a meeting after the loss and vowed together to change their ways. It has worked. They started the Second Round with the victory over France and have not lost since then - going through Italy in the quarters and Croatia in the semis.
Lithuania's key has been their depth and unpredictability as 10 Lithuanians have scored in double digits at least once with seven different players leading the team in scoring in at least one game.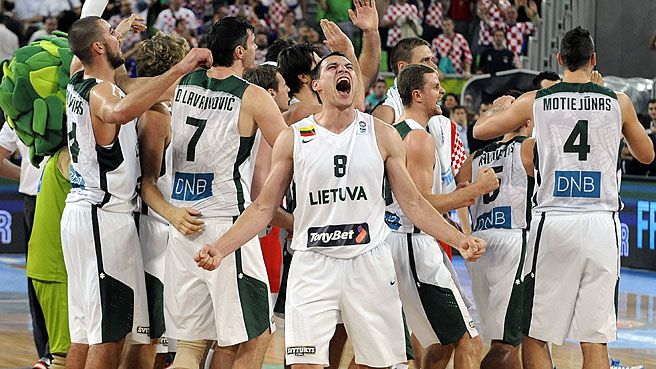 Mantas Kalnietis has been a calming force at the point guard as the team's leading scorer and one of the leaders in assists in the competition. The 21-year-old emerging center star Jonas Valanciunas has at times dominated as Lithuania's leading rebounder and shot blocker.
In addition, Linas Kleiza has shown flashes of the all-around overpowering force many remember from the 2010 World Championship - for example with 22 points and 11 rebounds in the semis.
Jonas Kazlauskas has liked what he has seen from his team and will not want to change much - especially his side's winning ways.
Regardless of which proud basketball nation wins on Sunday, a great story will end in glory.
Stats Don't Lie: France are number three in points scored (77.9) while shooting 47.4% from the field (second-best in the tournament). Lithuania for their part allow the second-fewest points (66.8) and teams shoot just 38.4% from the field (second-best in the tournament) against them. Lithuania rank third in rebounding so France will have to work hard to get rebounds. France are second in blocks with 3.7 per-game.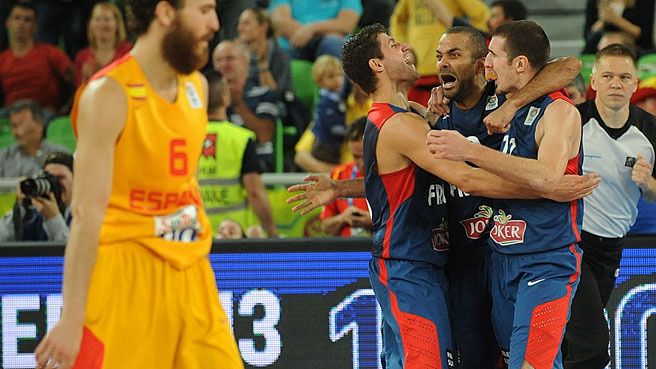 Key Match-Up: Tony Parker torched the Spanish defence for 32 points on 11-of-19 shooting in the semis. So Mantas Kalnietis will be next in line to try to slow him down. Look to Renaldas Seibutis to help out. Lithuania held Parker to just 11 points on four-of-eight shooting in their Second Round match-up.
They Say:
France guard Antoine Diot: "Lithuania is a very good team and we have to take it very seriously if we want to win this final."
France center Alexis Ajinca: "We are happy to beat Spain. It was a great win, but it was only the semi-final and our goal is bigger than that. We didn't come here to lose in the final, so we have stay focused on the big game and be ready to win."
Lithuania forward Jonas Maciulis: "This means a lot for us for such a small country to be in a EuroBasket final. It's something special. We have a medal but now we want to get gold. We played France before but a final is a different story. Every game is a different story for everybody. Maybe someone didn't feel good that day. But it looks like they are getting in shape."