Spurs edge CSKA in OT in US Tour finale
11
oct.
2013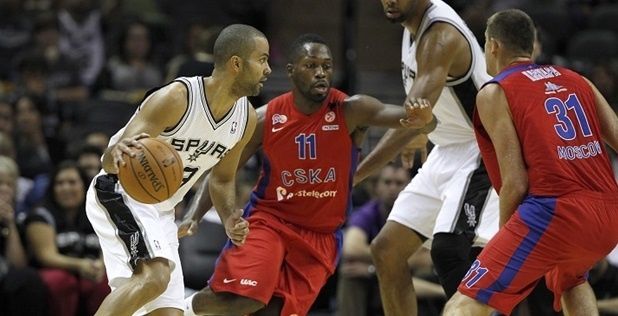 CSKA Moscow came agonizingly close to sweeping the games on the 2013 Euroleague Basketball US Tour, but had to settle for a 1-1 record after falling to the San Antonio Spurs of the NBA 95-93 in an overtime thriller on Wednesday night at AT&T Center in San Antonio, Texas. San Antonio pulled away with a 15-0 third quarter run, but CSKA held the hosts scoreless for the first eight minutes of the fourth quarter while reeling off 17 straight points off their own. The game came down to the last shot twice. Former Euroleaguer Aron Baynes's tip-in with 0.5 seconds left tied the game at 86-86 to force overtime. CSKA captain Victor Khryapa missed a jumper in the closing seconds of overtime that would have extended the game another five minutes. All told the game featured 15 lead changes and 16 ties. Former Euroleague champion Manu Ginobili and Patty Mills paced the Spurs with 14 points, while Baynes added 12 and Tim Duncan 10. Jeremy Pargo led CSKA with 20 points, Sonny Weems scored 16, Khryapa tallied 12 points, 7 rebounds and 7 assists and Vitaly Fridzon netted 10.
First quarter: Exciting start sees multiple lead changes, highlights
CSKA won the opening tip and went inside to Sasha Kaun, who scored over Tiago Splitter. San Antonio got right on the scoreboard with a Kawhi Leonard three and a Duncan jumper. CSKA regained the lead through a Vladimir Micov triple before Pargo added a jumper for a 5-9 advantage. The hosts challenged Khryapa through Duncan, whose one-handed slam over Kaun evened the score. Fridzon's floater put the visitors back on top. Milos Teodosic came off the bench and made an instant impact with an assist to Khryapa. A fast break slam by Leonard delighted the fans and evened the score once again, 15-15. The game remained tight as Kyle Hines converted a three-point play to make it 17-20. Weems delivered a highlight-reel worthy slam only to see Ginobili connect for a triple at the other end. A Circus shot by Teodosic tied it, however Ginobilis's second three left the Spurs with a 27-26 edge after one quarter.
Second quarter: Spurs take 10-point lead, CSKA races right back
The Spurs added to their lead through Diaw and Ginobili before a jumper from Krstic stabilized the Russian champs. Diaw and Khryapa traded baskets before Duncan went inside and lifted the home side to a 39-32 margin. Micov bounced a shot in, but Matt Bonner answered. Marco Belinelli's first points were from downtown and put San Antonio up by double figures. Kaun answered for CSKA with a three-point play. Baynes scored inside on his first tough for the Spurs. Jumpers by Khryapa and Pargo trimmed the deficit to 5. Then Krstic got to the line and shaved another 2 points off San Antonio's lead before Teodosic capped a 0-9 run with the three to tie the game at 46-46. Ginobili ended the Spurs' drought with 3 free throws, but a three from Weems knotting thing up. Tony Parker fed a cutting Baynes for a last-second slam that put the hosts up 51-49 at the half.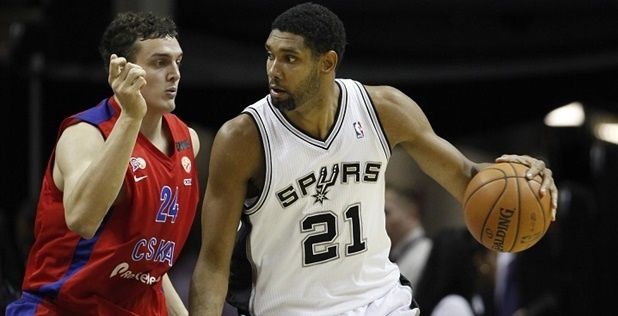 Third quarter: Hosts reel off 15 straight points to break deadlock
A Weems jumper tied the game a minute into the third quarter. The Spurs tried to pull away with consecutive baskets from Parker and Duncan, however Weems took over with a triple followed two minutes later by a slam to bring CSKA within 59-58. After a San Antonio timeout, Danny Green connected on a long jumper, but Pargo bettered him with a triple to beat the shot clock, thus tying the game at 61-61. A Jeff Ayres tip-in put San Antonio back in front. Ginobili put his stamp on the game when he blocked Teodosic from behind at one end and nailed a triple at the other. Patty Mills burned CSKA twice in transition to put San Antonio in control. Green capped a run of 15 unanswered points with a triple to make it 76-61. Aaron Jackson ended CSKA's scoring drought from the line, but another Mills basket gave the Spurs a 78-63 lead at the end of the quarter.
Fourth quarter: CSKA takes charge with 0-17 run, but Spurs tie in final second
CSKA's shooting woes continued until Pargo set things right with a three-pointer. Then an offensive rebound by Hines led to a three by Fridzon. A timeout didn't cool off the visiting guards as Pargo added a jumper off one leg to trim the deficit to 78-71. Hines – thanks to a great pass from Khryapa – completed a three-point play, Krstic rejected Baynes and Khryapa sank a baseline jumper to make it 13 straight CSKA points as the visitors roared to life. Hines followed with a block of Sam Young before another shot from Khryapa. Then Krstic shined by rejecting Young at one end and finishing at the other. Nando De Colo finally ended an eight-minute Spurs drought with a layup to tie the game at 80-80. Baynes tipped in a Young miss only to see Pargo give CSKA the lead with a triple. Fridzon extended the lead to 82-85 when he followed a missed Khryapa jumper in with 1:22 left in the game. Baynes drew CSKA within 1 from the line 36.7 seconds remaining. De Colo had a jumper to put the hosts back in front, but missed. Needing to stop the clock, San Antonio sent Pargo to the line with 8.6 seconds left and he made only 1. Mills missed a go-ahead three, but Baynes's tip-in with 0.5 seconds on the clock tied it at 86-86 and forced overtime.
Overtime: Thriller comes down to the last shot
Khryapa started the overtime with a steal and slam. Kaun rejected Ayres inside, but a Baynes jumper tied it. Pargo impressed with a one-handed runner, but it was tied at 90-90 after a bucket by Mills. The Spurs guard followed that with an acrobatic finish on the break to make it 92-90 with 95 seconds remaining. CSKA called timeout and despite a Pargo miss, the visitors hustled for the rebound and Fridzon drained a triple for a 92-93 lead with 24.1 seconds to go. San Antonio called timeout, got the ball to Mills and he swished a three with 11.2 seconds left, 95-93. CSKA called timeout and got the ball with Khryapa for a jumper to tie it, but it bounced out and San Antonio walked away with the win.
Post game reactions
Ettore Messina, CSKA Moscow head coach: "I think it was a good game. First of all, I think Coach Pop [Popovich]saw what he wanted to see out of his team when they pushed really hard in the third quarter and made a distance between the two teams. They gave us some true NBA basketball in those minutes. It was very, very intense, physically. In those minutes we really struggled. Then we found the big lineup and we found more physical intensity and came back and almost won the game. But we need to recognize that if we would have won the game, it would have been something very nice, because Coach Popovich, after seeing what he wanted to see, decided not to use his bench. But anyways, it would have been a good thing. We go back home with a lot of information and a lot of experience. We almost played three games because we played 48 [minutes], 48 and two overtimes. So this was very important. It has been a very useful trip and we go back home tired, but with a lot to prepare for the season. "
Jeremy Pargo, CSKA Moscow guard: "It was a little disappointing because we had it in the bag tonight. I missed a crucial free throw and had a mental lapse. I felt like we had every opportunity to win that game. There was a stretch in the third quarter when we started missing shots. When you're playing a team like the Spurs, if you start missing shots, one thing they're going to do is keep steady and play their game. Danny [Green] hit a big three-pointer, Ginobili hit a big three-pointer and they went on a 15-2 run or something like that."
Greg Popovic, San Antonio Spurs head coach: "We're going to watch the film closely because I've always been impressed with Coach Messina's teams. They penetrate and pitch better than we do. We try to be a team that does that really well. We've tried to adopt some European style in what we do here and there, but he really does a great job with them. I'm going to look at that and see what we can do to get even better at that."