Rudy Fernandez named MVP of the week
18
janv.
2014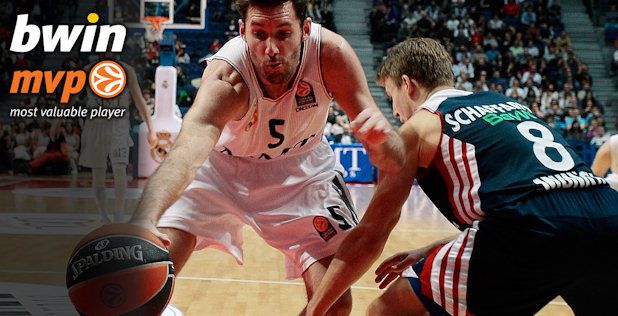 In another huge victory for Real Madrid, Rudy Fernandez produced one of the best nights of his magnificent career to claim the bwin MVP honor for Round 3 of the Top 16. Fernandez scored 24 points to lead Madrid to its highest Top 16 point total in 12 years in a 111-87 victory over visiting FC Bayern Munich. The 28-year-old swingman made 4 of 7 two-point shots, 4 of 6 from downtown and all 4 of his free throws. He added 5 rebounds, 3 assists, a steal and 5 fouls drawn for a performance index rating of 30, the best on a winning team in the week's eight games. The top index rating of the week belonged to Nenad Krstic of CSKA Moscow who had 33 in a 73-72 loss at Partizan NIS Belgrade. Krstic scored 27 points on 11-for-14 two-point shooting, while collecting 7 rebounds, 2 blocks and 1 assist. The next two spots on the week's top five were shared by CSKA Moscow forward Sonny Weems and Zalgiris Kaunas guard Justin Dentmon who both had index ratings of 27. Weems scored 16 points and dished out career-high 10 assists, along with 2 rebounds, 2 assists and 4 drawn, while Dentmon scored 21 points while tying a Zalgiris record with 10 assists in addition to 6 rebounds in 78-87 home loss to Maccabi Electra Tel Aviv. Closing out the top five was Stephane Lasme of Panathinaikos Athens who collected 16 points, 8 rebounds and 2 assists for index rating of 24 in a victory over Anadolu Efes.
 MVP Video
Individual: Derrick Brown of Lokomotiv Kuban Krasnodar, 5 steals
Top two scorers of the week came from the same game, as Krstic and Partizan's Bogdan Bogdanovic each scored 27 points. At 15.7 points per game, Bogdanovic is now fifth in the league! Dentmon's performance against Maccabi gave him the spot as competition's leading scorer with 17.2 per game. Five different players had 8 rebounds this week – Lasme and Antonis Fotsis both of Panathinaikos, Partizan's Joffrey Lauvergne, Maccabi's Devin Smith and Vladimir Stimac of Unicaja Malaga. Pop Mensah-Bonsu of Galatasaray Liv Hospital is Euroleague's rebounding leader with 10.4 per night. Yogev Ohayon of Maccabi Electra led all Top 16 Round 3 players with 11 assists. Dimitris Diamantidis of Panathinaikos remains the assists leader with an average of 7.8. Derrick Brown of Lokomotiv Kuban Krasnodar recorded 5 steals in a road win at Galatasaray which were more than anyone this week. Jamon Gordon of Anadolu Efes Istanbul averages 2.2 steals per game to lead the competition. Tibor Pleiss of Laboral Kutxa Vitoria rejected 3 shots to be the best blocker of the Top 16 Round 3. Shawn James of Maccabi Electra leads the category this season with 1.6 per night. There were three double-doubles this week. Dentmon had 21 points and 10 assists, Weems scored 16 along with 10 assists, and Ohayon finished with 10 points and 11 assists.