Heat's LeBron James to be named Most Valuable Player
03
mai
2013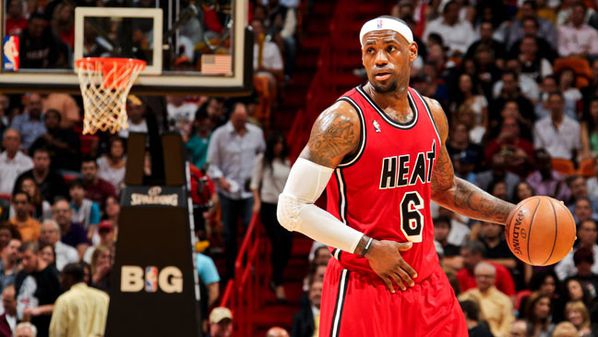 The NBA will announce Sunday that Heat forward LeBron James has been named the 2013 Most Valuable Player, according to multiple reports.
ESPN.com and the Sun-Sentinel both reported Friday that James will receive the fourth MVP award of his career this weekend.
Back in April, FoxSportsFlorida.com reported James' thoughts on possibly becoming one of just five players to win the award at least four times, joining Kareem Abdul-Jabbar (six), Bill Russell (five), Michael Jordan (five) and Wilt Chamberlain (four).
"Anytime I'm mentioned with the greatest players to play the game or people period, it is a wow factor because I grew up and studied those guys and watched those guys, and a few of those guys were my inspiration growing up," James said.
James, 28, emerged as the landslide favorite for his second consecutive MVP as he led Miami to a league-best 66-16 record that included a 27-game winning streak. James averaged 26.8 points, 8 rebounds, 7.3 assists, 1.7 steals and shot a career-high 56.5 percent from the field and 40.6 percent from deep on the season.
The nine-time All-Star led the league in Player Efficiency Rating for the sixth straight season and finished second in the Defensive Player of the Year voting. James was named Eastern Conference Player of the Month in November, December, January, February and March.
The Point Forward's Rob Mahoney laid out the case for James as MVP this season and an SI.com panel unanimously selected him for the award in April. James' top competition for the award will likely include Thunder forward Kevin Durant, Clippers guard Chris Paul and Knicks forward Carmelo Anthony.
James previously won the award in 2009 and 2010 with the Cavaliers and in 2012 with the Heat. James beat out Durant, Paul, Lakers guard Kobe Bryant and Spurs guard Tony Parker for the award last season and was also named 2012 Finals MVP after the Heat beat the Thunder for the first title of his career.