Real rallies past Beijing, 86-92, in China Tour exhibition!
12
oct.
2013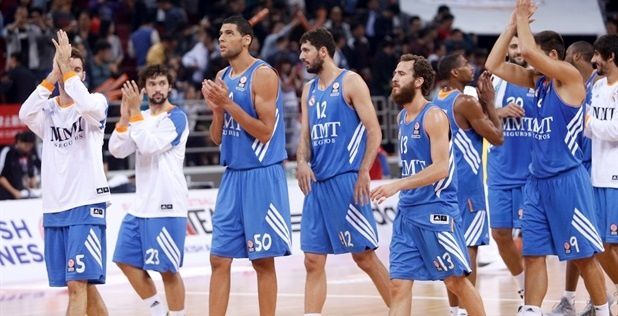 In a game of exciting swings, Real Madrid held on Friday to defeat the Beijing Ducks 82-96 at to close the Euroleague Basketball China Tour 2013. Real Madrid lost all of an eight-point lead in the third quarter to trail by 63-57 before it finished, only to come back strong in the fourth and lead by as much as 70-80 on the way to victory. The trio of Jaycee Carroll, Sergio Rodriguez and Tremmel Darden fueled the fourth-quarter turnaround as they finished with 14, 13 and 11 points respectively. Assists by Rodriguez on three-pointers by Carroll and Darden provided the game-breaking sequence for Madrid. Rudy Fernandez added 10 points for the winners, while Madrid new center duo, Salah Mejri and Ioannis Bourousis chipped in 9 points apiece. For Beijing, big man Randolph Morris led all scorers with 28 points, while Stephon Marbury had 25 and Li Gen 10. The China Tour was part of the Euroleague Basketball World Tour in which Madrid, CSKA Moscow and Olympiacos Piraeus won four out of five games and the only defeat came in overtime to the San Antonio Spurs.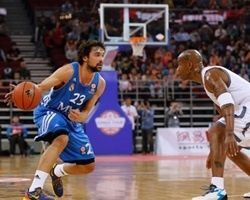 Sergio Llull - Real Madrid vs. Beijing Ducks - China Tour 2013
Beijing started strong and led 7-2 before Fernandez drilled a three-pointer and SergioLlull sent Tremmel going fullcourt for a fastbreak dunk to tie it up. Bourousis took the lead for Madrid from the free throw line, but Marbury's three-point play gave it back to Beijing, 10-8. Llull answered from downtown, but Marbury kept pushing his team in front. Mejri's free throws got Madrid closer, 14-13, before Dani Diez grabbed a loose ball under the basket and put it in to give the visitors a one-point lead after 10 minutes.
Beijing re-took the lead with 4 quick points early in the second quarter, but Mejri got loose for a dunk to tie it. Morris and Fang Shuo, the latter with a three-pointer in transition, kept Beijing from losing the lead despite more offense from Mejri and Rodriguez. The latter's free throws forged another tie, 25-25. Sun Yue's go-ahead jumper was bested by Carroll from downtown as Madrid went back in front, 27-28. Morris shot Beijing ahead again and kept his there, 32-30, at the foul line. Carroll erased that lead with an open triple, a shot Morris goaltended on and a free throw to make it 34-36. When Dontaye Draper climbed off the bench for a corner three-pointer and then fed Rudy Fernandez for his trademark backdoor alley-oop jam, Madrid was on its way to a 36-42 halftime advantage.
Morris got the second-half scoring started at the free throw line before Fernandez set up Marcus Slaughter for a dunk that wowed the crowd. With another Morris jumper and Li Gen's three-pointer, Beijing got within 43-46, but Fernandez answered with a swish of his own from the arc. When Nikola Mirotic copied him, Madrid had its biggest lead yet, 44-52. Marbury reappeared with an acrobatic shot for Beijing and when he found Wang Xiaohui in the corner, it was suddenly 50-52. Llull and Fernandez settled Madrid down with a pair of layups, but when Zhu Yanxi stepped out for an open three-pointer, it was suddenly a tie game, 56-56. Marbury took the honor of putting Beijing back in front from the arc. His free throws and fastbreak layup made it a 63-57 lead and a 14-point swing since earlier in the quarter for Beijing. Bourousis came to Madrid's rescue with 4 points, but still Beijing led 65-61 after 30 minutes.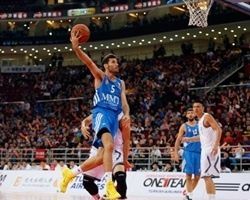 Rudy Fernandez - Real Madrid vs. Beijing Ducks - China Tour 2013
Rodriguez cut the difference with a jumper and Felipe Reyes tied it up again, 65-65, with free throws to start the final quarter. Morris wouldn't let his team fall behind, and though Bourousis got free or a dunk alone, Marbury's breakaway layup put Beijing back in front. To the rescue for Madrid came Carroll and Darden, with back-to-back three-pointers courtesy of assists by Rodriguez, and the visitors were suddenly back in front, 70-75. After a timeout, Morris got 4 points back quickly for Beijing before Reyes fed Bourousis inside and Marbury buried a triple for another tie, 77-77. Rodriguez answered with his own and Darden added free throws to make it 77-82 in favor of Madrid. Soon, Rodriguez hit a layup and with 1:40 to play, Darden broke loose for a layup to make it 70-80, the game's first 10-point lead. That was enough for Madrid to hold onto its historic first win on the Euroleague Basketball China Tour 2013!
POST-GAME COMMENTS:
Real Madrid head coach Pablo Laso: "It wasn't easy for us to adapt to their style. They play very individual basketball based on Marbury and Morris and it was difficult for us. I think that we had a few good moments on offense. Aside from some time in the third quarter in which they had a good streak from the arc, we dominated throughout most of the game. I think we deserved to win. Now we are ready to start the season. We knew the tour would be hard on our schedule, we finished with no injured players and that is good. The experience in China has been very good, we knew a different country, lifestyle, philosophy... We visited a few great places and it was positive for us, even on a basketball level to know a different style of game."