Real makes Beijing next stop on Euroleague World Tour
08
oct.
2013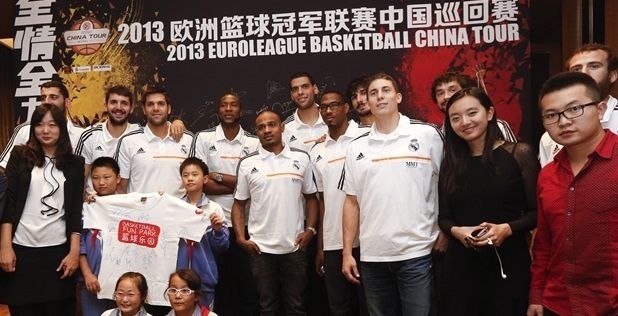 One of the world's biggest sporting brands met one of the world's biggest capital cities on Tuesday as Spanish powerhouse Real Madrid landed in Beijing to begin a four-day goodwill visit as part of the Euroleague Basketball World Tour 2013. The visit will culminate with Chinese fans being able to watch last year's Turkish Airlines Euroleague runners-up in live action on Friday against the Beijing Ducks of the Chinese Basketball Association.
The Real Madrid travelling party hit the ground running Tuesday with a full-day program that began shortly after its plane touched down at 4:45 a.m. local time en route from the Spanish Capital. Within a couple hours, the team was on its way to visit the Great Wall, where players and staff had a couple hours to climb hundreds of steps and marvel at the views from one of the world's most recognizable monuments.
From the Great Wall, the team proceeded to hold its first practice in China at the MasterCard Center, scene of Friday's game with Beijing Ducks. Later on Tuesday, the Real Madrid family were special guests at a welcome party and banquet attended by the team and staff as well as Euroleague Basketball President and CEO Jordi Bertomeu and local partners of the competition.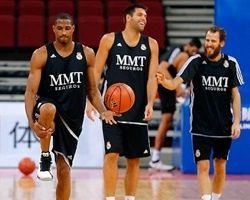 Tremmell Darden, Felipe Reyes and Sergio Rodriguez - Real Madrid practices - China Tour 2013
"It's an honor for Euroleague Basketball to have one of our signature teams, Real Madrid, represent us in such an important place for our sport as the Chinese capital," Mr. Bertomeu said. "It goes without saying that we share a love of basketball with countless people in China, so it is a great pleasure for us to be with them and show them, first-hand, one of the most exciting teams in the world. At the same time, we are just as proud that Real Madrid will be hosting a One Team session for underprivileged children and also a basketball clinic, among other things. Their efforts show that our game is appealing worldwide and that through that many good things, besides just exciting basketball, are possible."
It was a memorable start in a busy schedule as one of the most exciting teams in global basketball dedicates the week before the Euroleague season starts to a full-fledged cultural exchange with people from all walks of life in Beijing.
The tour continues Wednesday as Madrid will host a One Team event at the Hongshan Primary School featuring players Dontaye Draper and Salah Mejri spreading the word about a corporate social responsibility program that is growing by leaps and bounds as it aims to teach life lessons through sport.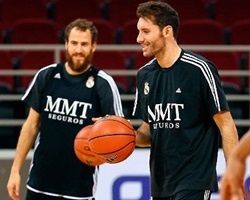 Rudy Fernandez - Real Madrid practices - China Tour 2013
On Thursday, Real Madrid and Euroleague Basketball will host a clinic at a local high school to feature players Jaycee Carroll and Marcus Slaughter, as well as head coach Pablo Laso. On both days, Madrid players and coaches will take part in other promotional events with Chinese fans, open its practices to local players and coaches and, of course, visit more of China's famous sites.
The visit to China ends with the highly anticipated exhibition game on Friday, October 11 starting at 19:30 local time (13:30 CET), when Real Madrid faces the Beijing Ducks at MasterCard Center. The game is a part of the Euroleague Basketball World Tour, that also had the Euroleague champ Olympiacos Piraeus play, and win, the Intercontinental Cup in Brazil, and has CSKA Moscow play two exhibition games against the NBA opponents in USA.