Pete Mickeal leaves Barcelona to focus on his health
01
mai
2013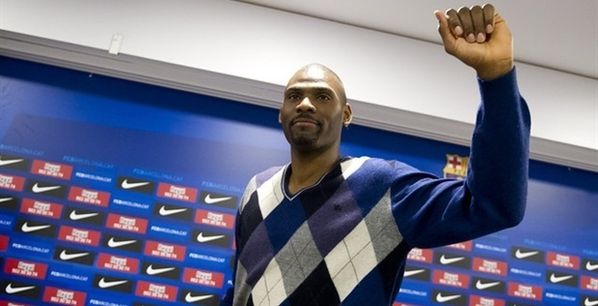 At an emotional press conference held at Palau Blaugrana on Tuesday, FC Barcelona small forward Pete Mickeal announced that he will put basketball aside for an undetermined period of time due to health reasons. Mickeal said that he will travel to his home country, the United States, in two weeks' time to meet a specialist and focus on his blood problem before even considering playing professional basketball again. "When it comes to playing basketball, it is a second option for me in my life. The first option is to get healthy and seek all the answers that I can to stop the problem that I have in my blood," Mickeal said. "Basically, I am going to the United States in two weeks to meet with a specialist, maybe one of the best specialists in the world, who has treated NBA players with the same problem. I am going to the States and I will spend an extensive amount of time in there - maybe four months, maybe six, maybe a year, maybe forever. That's only for my health, that's not concerning basketball." Mickeal was not sure yet whether he would be able to be attend the Final Four in London, where Barcelona qualified despite missing him for the end of the Top 16 and playoffs. 
Mickeal played his last Euroleague game in Top 16 Week 10. He had started in all 20 of Barcelona's Euroleague games until then, averaging 11.3 points on 86.1% free-throw shooting and 3.9 rebounds. His season ended abruptly, however, with the recurrence of a life- and career-threatening pulmonary embolism. Mickeal is in his fourth season with Barcelona lift the Euroleague trophy in 2010, as well as to win two Spanish League and two Copa del Rey titles. Mickeal's embolism marks the recurrence of the same problem that cut short his 2010-11 season, the one when Barcelona was defending the title and missed the Final Four in its own city. 
"There is no other club like this in the world," Mickeal said. "We can go NBA, Europe, the people is what makes this club special and I want to thank everybody in this club for the support that they have given me, even believing in me after I had this problem the first time, that I could come back and help this team win. I am proud of that, the years that I have been in this club, the type of people that I have met, from the top of the club, Sandro Rossell, to the bottom of it," Mickeal said. "The type of people you have, when you are from another country like most of us are and you come here to play basketball, is what helps you and makes you to feel comfortable. I am very happy to sit here at this podium today to tell you that there is no better people in the world than in FC Barcelona." 
Of course, Mickeal wants to try to support his team at the 2013 Turkish Airlines Euroleague Final Four in London, but his health problems might prevent that, he said. "I would love to be with the team in the Final Four. For me, the most important thing is to be with the team but some days it is not always possible. Sometimes you take medication, and it controls you; you don't control yourself," Mickeal added. "That's kind of what I go through some days. It is like any problem you have, some days are good days and some other are bad days. I would love to go to the Final Four. I don't know if that is going to be possible but I would love to go." 
Mickeal was joined at the press conference by FC Barcelona Regal head coach Xavi Pascual and the club's sports director, Joan Creus. 
"These are things that, when they happen, you only think about wishing him a full recovery. The team has already learned to live without him, to look ahead, as we showed in the playoff series," Pascual said during press conference. "It would be a mistake to miss him if things don't work out. We miss him always, every day, good or bad, win or lose, practice or trips. We miss him every day. But our jobs make us look ahead and we can only believe in the path of winning, as we do now in preparing for the Final Four. We hope that our first words on May 12 are about Pete." 
"I'd like to thank Pete, first of all, for the words he has dedicated to the team and the club in his comments," Creus said. "Also, for everything he has done for this club. He is a player that sets an example because of his winning spirit. Proof of that is the amount of people that have shown up here today for this press conference. We have no doubts about Pete at a sports level, we have talked with Xavi (Pascual) regarding his performances, which have been outstanding. Another thing is his condition which, as he just told us, could take from two months to a full year. I hope he can fully recover, for himself as a person, that's the most important thing. And also, hopefully, he can play basketball again."