One Team continues growing!
20
sept.
2013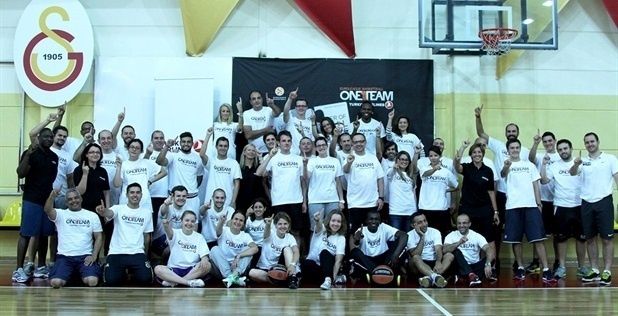 This third annual workshop One Team of the Turkish Airlines Euroleague was attended by the new manager OT Cyrille NGARIO and coach OT Maurice Beyina.
On the eve of a new season, the growing stakeholders in Euroleague Basketball's corporate social responsibility programme, One Team, held their own training camp in Istanbul, Turkey this week to work together on new ways to use basketball to make a positive impact in at-risk communities across the continent.
A total of 62 participants attended the two-day III One Team Workshop, which was hosted by Galatasaray Liv Hospital Istanbul, one of 17 Euroleague Basketball clubs executing unique One Team projects on the local level.
Also participating were representatives of strategic partners Special Olympics and One London, in which Euroleague Basketball enjoys the collaboration of the Queens Park Rangers Community Trust, Tottenham Hotspur Foundation and Charlton Athletics Community Trust. In addition, employees of Turkish Airlines, the One Team Founding Patron, joined the sessions in order to become volunteers in the program.
"It is amazing to see how the programme keeps developing," Isabel Gultresa, Director of One Team. "In this edition, we have counted with the participation of more significant partnerships, such as the One London football representatives, and this demonstrates how powerful the sport is when talking about social development. We are also very glad that our main sponsor, Turkish Airlines, joined us in this edition with staff members participating in the sessions, as they will be volunteering in some of our One Team programs in Turkey."
The workshops were used to explain the workings of the programme to newcomers and emphasized ways to measure and evaluate the impact of projects, the incorporation of club ambassadors and volunteers, and the success stories of One Team projects around Europe.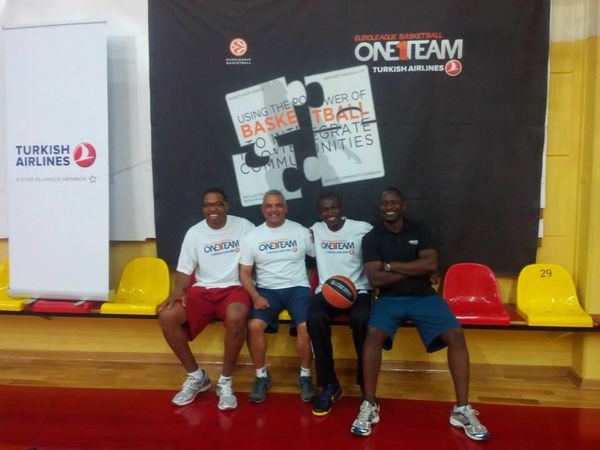 "The Tottenham Hotspur Foundation is proud to be working with Euroleague Basketball to deliver the One Team Project in London," Alex White, Community Development Manager, Tottenham Hotspur Foundation, said. "We were delighted to be able to join the One Team workshop in Istanbul, along with colleagues from Charlton Athletic Community Trust and QPR Community Trust, to share our experiences and to learn about the great work taking place across the many Euroleague Basketball clubs involved in the project. We look forward to continuing our work with Euroleague and the One Team Project to increase community integration."
One Team workshop in Istanbul, 2013
Other sessions in Istanbul were led by member clubs with longer experience in the programme to give practical lessons on the role of One Team coaches and to show the difference between using basketball for development of social and life skills, as opposed to developing basketball skills, in the communities being served.
"It was a great opportunity to meet like-minded people and organizations from the One Team family who share the passion, vision and commitment to inspire change through sport," said Pablo Blackwell of Queens Park Rangers Community Trust. "One London aims to bring our expertise, knowledge and delivery of community sport to increase the awareness of the One Team ethos, integrating and incorporating our current delivery to include basketball and impact on the four strands that One Team has identified for change!"
In addition to Galatasaray, the other One Team clubs collaborating with local projects are: Alba Berlin, Anadolu Efes Istanbul, Brose Baskets Bamberg, CSKA Moscow, EA7 Emporio Armani Milan, FC Barcelona, Khimki Moscow Region, Laboral Kutxa Vitoria, Lietuvos Rytas Vilnius, Maccabi Electra Tel Aviv, Olympiacos Piraeus, Panathinaikos Athens, Partizan NIS Belgrade, Real Madrid, Unicaja Malaga and Zalgiris Kaunas. Euroleague Basketball, from its headquarters in Barcelona, is the only One Team project participant not based at one of the member clubs.
Source: Euroleague.net