Nikola Mirotic named MVP for October
04
nov.
2013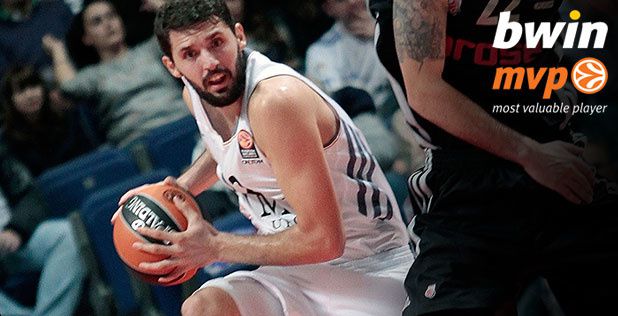 It is hard to imagine a team starting the Turkish Airlines Euroleague season better than Real Madrid did last month. But it might be even harder to imagine anyone playing a whole month more efficiently than Euroleague Basketball's choice as bwin MVP for October, forward Nikola Mirotic. Madrid won its three October games by an average of 26.3 points. But as good as Madrid was as a team, Mirotic played close to perfect. Just consider the many different statistical categories in which he now ranks among the Euroleague's top 15 players: performance index rating, three-pointers, free throws, points, true shooting %, three-point %, blocked shots, offensive rebounds, steals and total rebounds. Among his many great numbers in October, perhaps the most impressive Mirotic's age, 22, which belies the incredible maturity in his game. With Rising Star trophies in 2011 and 2012 and an All-Euroleague Second Team selection last season, Mirotic had already established himself as an elite player. Now, in the season's first month, the young forward has proven that his star is still on the rise. His performance left no doubt that one player above all deserved to be named bwin MVP for October: Nikola Mirotic of Real Madrid.
The bwin MVP of the Month honor is now in its 10th season. Although statistics and performance index ratings are taken into consideration for the award, they alone do not determine who is honored. The winner is named by Euroleague Basketball based on his and his team's performance. The award for October was based on the three regular season games that all teams played between October 16 and November 1. Euroleague Basketball partner bwin is the sponsor of the MVP of the Month award. Just as the best Euroleague player each month combines performance and leadership for success, so does bwin's sponsorship communicate its conviction to be the best betting brand in European basketball.
One week after winning its last preseason game in China, Real Madrid started the Euroleague season on the road against Zalgiris Kaunas with a resounding 63-83 victory. Tellingly, Mirotic started his season with defense, 2 steals and a block in the game's first 3 minutes. His scoring exploded after halftime, when 8 of his team-high 18 points came during a four-minute stretch when Madrid's lead ballooned from 6 to 16 points and pointed the way to victory. He finished with near-perfect shooting - 2 of 2 two-pointers, 3 of 4 threes and 5 of 6 free throws - to go with 5 rebounds and assist and 5 fouls drawn for a 27 index rating, good enough to become the Round 1 bwin MVP for the best performance of opening week. A week later at home against Brose Baskets Bamberg, Mirotic again thought defense first, taking 3 steals in the game's first 5 minutes, but his shot was ready, too. His 10 points in the first quarter had Madrid up 18-7 and on its way to a 98-58 blowout. He only played sparingly after that, making just one more shot, but pulling 8 rebounds, blocking 2 shots and committing zero turnovers or fouls for a 22 index rating in just 17 minutes on the floor. Mirotic saved his best game of October for last as Madrid hosted EA7 Emporio Armani Milan in Round 3. He scored 15 points without a miss in the first quarter as Madrid went ahead 25-20 on its way to another blowout win by 93-74. Mirotic didn't need to shoot much more after that, but he didn't miss anything all night, either, as he finished with 19 points on 5 of 5 two-pointers, making his only triple and 6 of 6 free throws for 19 points, 6 rebounds, 2 assists and a 28 performance index rating.
By month's end, Mirotic's collective numbers were astounding: 16.3 points per game on 71.4% two-point shooting, 85.7% from downtown, 91.7% from the free throw line; averages of 6.3 rebounds, 1.7 steals and 1 block; only 2 turnovers for the month and 10 fouls drawn against 4 committed. It all added up to an average index rating of 25.7 in just 21 minutes per game. Although it was only three games, Mirotic's per-minute index rating was 48.14, which is 30% higher than the full-season record average of 37.21 by the legendary Arvydas Sabonis over 16 games for Zalgiris one decade ago. Most important now is that last year's runners-up are 3-0 and look unstoppable so far, just like Mirotic, who will receive his bwin MVP for October award at an upcoming Real Madrid home game.