Nik Caner-Medley named MVP of the week
26
oct.
2013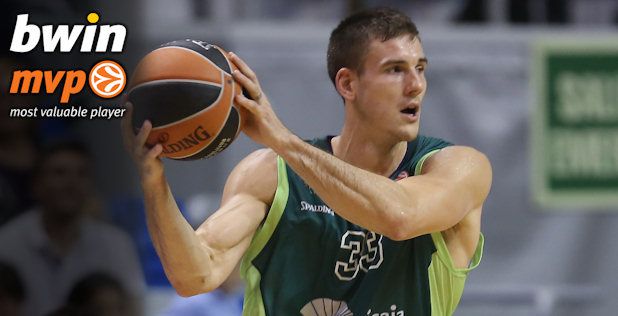 It was a career-night for Unicaja Malaga forward Nik Caner-Medley, who claimed bwin MVP honors for Regular Season Week 2. Caner-Medley had career-highs of 20 points and 10 rebounds, pacing Unicaja to a resounding 101-68 win over newcomer Stelmet Zielona Gora. Caner-Medley spent less than 20 minutes on the floor, hitting 7 of 8 shots from two-point range, and 2 for 3 from downtown, also adding an assist and a steal for his performance index rating of 29, which was the most among all players on winning teams in any of the week's 12 games. The top index rating of the week belongs to Andres Nocioni of Laboral Kutxa Vitoria. The veteran forward had 35 in a 95-74 loss to Panathinaikos Athens, amassing 23 points, 12 rebounds, 3 assists and a blocked shot as a part of his impressive performance. Tied with Caner-Medley on 29 points were Nate Jawai of Galatasaray Liv Hospital Istanbul and Boban Marjanovic of Crvena Zvezda Telekom Belgrade, a couple of big men who also had career nights in Week 2. Marjanovic, the tallest player in the competition, collected 20 points and 13 rebounds during a 96-82 defeat in Nokia Arena against Maccabi Electra Tel Aviv. In a losing effort against reigning champ Olympiacos Piraeus, Jawai had a career-high 22 points, on 7-of-8 shooting from the field, and 8 of 11 from the foul line, along with 5 rebounds. The last remaining spot in the week's top five belongs to young big man Nicolo Melli, who scored a career-high of 20 points and grabbed 9 rebounds in EA7 Emporio Armani Milan's 82-75 win over Zalgiris Kaunas.
Individual leaders: Dragan Milosavljevic of Partizan NIS Belgrade, 26 points
The week's top scorer was Dragan Milosavljevic of Partizan NIS Belgrade, who peppered the nets for 26 points in his team's blowout win over JSF Nanterre. Anadolu Efes Istanbul swingman Scotty Hopson is the league's leading scorer among players to take part in two games with an average of 21 points per game. Crvena Zvezda Telekom Belgrade center hauled in 13 rebounds to lead the weekly charts. Partizan forward Joffrey Lauvergne 12 rebounds per game lead the league. Three players tied for the week lead in assists with 9: Earl Calloway of Unicaja Malaga, Marcus Williams of Lokomotiv Kuban and Dimitris Diamantidis of Panathinaikos. Diamantidis's average of 8 per game is best in the league. Hopson recorded 5 steals to lead all players this week. His teammate Jamon Gordon and Dajuan Summers of Budivelnik Kiev, each with 3.5 steals per game, have the league's best averages. Real Madrid's Ioannis Bourousis, CSKA Moscow's Kyle Hines and Fenerbahce Ulker's Nemanja Bjelica share the weekly lead with 3 blocks apiece. Bourousis is tied with CSKA center Sasha Kaun for the league lead with 2 blocks per game.