Kevin Durant (Manchester): "It is great to come back here"
08
oct.
2013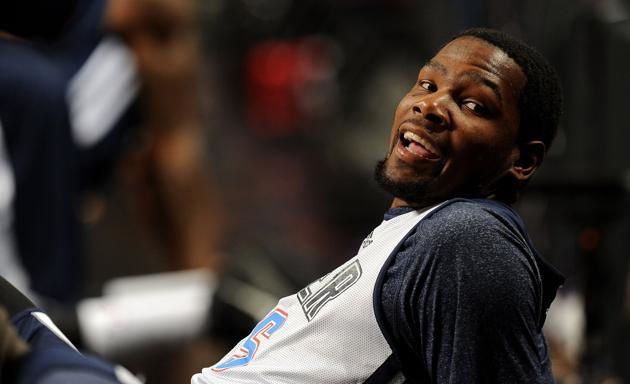 NBA star Kevin Durant keen to please Manchester crowd
Basketball star Kevin Durant is promising to "put on a show" as Manchester prepares to host its first NBA pre-season match. Durant's Oklahoma City Thunder meet the Philadelphia 76ers at Manchester Arena in Tuesday's exhibition game. Despite the contest being a friendly, 6ft 9in American Durant said the players were desperate to entertain.
"As players we've just to play our hardest and give the people a show," the 25-year-old told BBC Sport.
Kevin Durant: Career in numbers
Age: 25
Height: 6ft 9in (2.06m)
Weight: 240lb (17st 2lb / 109kg)
NBA debut: 2007
Career average: 26.3 points per game
Picked for four NBA All-Star Games
"It's going to be hard to convert them from football fans to basketball fans".
"But we've just got to go out there and be ourselves and hopefully they'll enjoy it and more people start going to matches over here.
"We are excited to be travelling to different countries and play this game that we love. A lot of guys didn't think we'd be travelling all round the world for basketball, so it's worth it." Having been part of the USA side which won their 14th Olympic basketball gold medal at the London 2012 Olympics, this is Durant's second visit to the UK.
The Oklahoma forward says he returns with fond memories of winning gold last year.
"It is great to come back here," added Durant. "Last summer was really cool just to be amongst so many great basketball fans and people who enjoy watching it. "It was fun to be a part of the Olympics here and playing for your country, you can't beat that. I have some great memories of the UK and things that will stick with me forever."