Justin Dentmon named MVP of the week
16
nov.
2013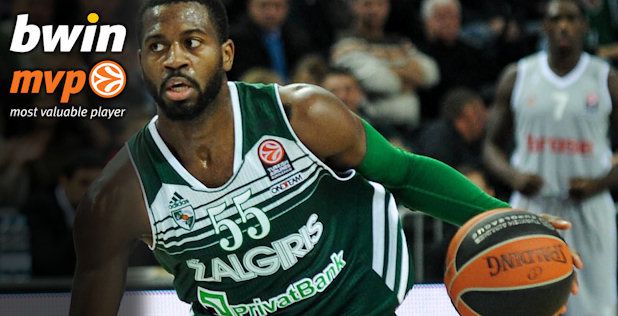 Rookies rarely make it to the top of the class so quickly, but in just his fifth Turkish Airlines Euroleague game, Zalgiris Kaunas point guard Justin Dentmon busted out with a stellar performance on Thursday to walk off with bwin MVP honor for regular season Round 5. In a 91-81 decision over visiting Brose Baskets Bamberg, his team's second victory of the season, Dentmon led Zalgiris with 24 points, while shooting 6 of 6 from downtown, matching the Euroleague's second-best performance this century for three-point accuracy behind only the historic 9-for-9 effort by Dentmon's coach, Saulius Stombergas. Dentmon also made 2 of 4 two-pointers, 2 of 2 from the free throw line, while also dishing 9 assists, the most by any Zalgiris player in a Euroleague game in more than five seasons. Dentmon grabbed 2 rebounds and 2 steals in compiling a performance index rating of 32, which was the most of and Euroleague players this week. Next on the list of the top individual performances with an index ratings of 29 was Lokomotiv Kuban Krasnodar forward Derrick Brown, who collected 23 points on 10-of-12 shooting and added 5 rebounds, 2 assists, 2 blocks and a steal to his tally in a home win over Laboral Kutxa. In third place for Round 5 performances was Montepaschi Siena guard Daniel Hackett. In Siena's first win of the season, a buzzer-beating victory at Unicaja Malaga, Hackett contributed 19 points, 7 assists, 4 rebounds and 9 drawn fouls. Rounding out the list of the round's top performers with 27 index points were Real Madrid point guard Sergio Rodriguez and Galatasaray Liv Hospital Istanbul forward Pops Mensah-Bonsu. In less than 20 minutes on the floor during a 103-57 thrashing of Anadolu Efes, Rodriguez had 14 points and 11 assists, along with a steal and 4 fouls drawn. Mensah-Bonsu amassed 19 points plus 13 rebounds, and 2 assists in crucial 84-74 win over FC Bayern Munich.
MVP Video
Individual leaders: Stephane Lasme of Panathinaikos: 6 blocks
EA7 Emporio Armani Milan's Keith Langford turned in the top scoring effort of the week with 25 points against Strasbourg. Langford is fifth in the Turkish Airlines Euroleague in scoring this season with 15.8 points per game; Fenerbahce Ulker swingman Bojan Bogdanovic leads the league with 20.2 points per game. Mensah-Bonsu hauled in 13 rebounds to top the Round 5 lists in that category. His average of 11 per game is second only to Partizan NIS Belgrade's Joffrey Lauvergne, who averaged 11.8 over the first five games. Real Madrid playmaker was magical in amassing 11 assists against Anadolu Efes, which led all Round 5 players. Panathinaikos maestro Dimitris Diamantidis remains the season-long leader with 8.2 assists per game; Rodriguez is third with 6.2. Four players tied for the week high with 3 steals: Rakim Sanders and Jamar Smith, both of Brose Baskets Bamberg, Paulius Jankunas of Zalgiris and Bojan Bogdanovic of Fenerbahce Ulker. Anadolu Efes Istanbul's Jamon Gordon and Budivelnik Kiev's DaJuan Summers each average 2.4 steals per game, which are the best marks in the league. Reigning Euroleague Best Defender Trophy winner Stephane Lasme of Panathinaikos rejected 6 shots to set himself apart from the rest of the Round 5 players. He is now third in the league in blocks this season; Efes's Semih Erden is first with 2 blocks per game. A total of five players collected Round 5 double doubles: Mensah-Bonsu, Vladimir Dragicevic (18 points, 12 rebounds) of Stelmet Zielona Gora, Alexis Ajinca (16 points, 11 rebounds) of Strasbourg, Tibor Pleiss (15 points, 10 rebounds) of Laboral Kutxa and Sergio Rodriguez (14 points, 11 assists) of Madrid.