Jordi Bertomeu meets Greek media
13
févr.
2014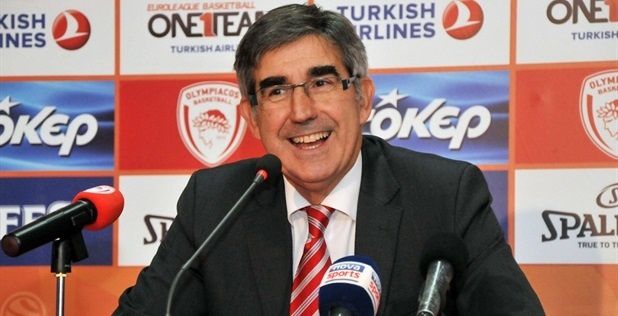 Jordi Bertomeu, Euroleague Basketball President and CEO, met with media from Greece Thursday prior to the Top 16 game between Olympiacos Piraeus and Anadolu Efes Istanbul to update them on the competition's progress on issues of importance to clubs, fans and stakeholders alike. 
Mr. Bertomeu informed the media of progress being made across the board in Euroleague Basketball, from more and larger sponsor commitments to a nearly 10% increase in attendance this season, and from solid revenue and club economic growth. 
"We are satisfied because the season has been quite successful so far," Mr. Bertomeu said. "There are specific cities where we want to mention their growth. I want to mention Milan, which has been a great place for basketball and after years the fans are back. And also Fenerbahce Ulker and of course Olympiacos, which are doing a terrific job on this front. " 
Mr. Bertomeu specifically addressed the vast increase in the reach of the competition through TV and technology to a potential audience of 1.85 billion, double the size of three years ago. 
"We have 195 countries that we are reaching with our games on TV. We've never had this many countries at this point in the season. At the end of the season last year we had 199, so I am optimistic that this season we will go over 200. That is a good sign," Mr. Bertomeu said. "We are happy with how things are going now, but as always thinking about how to make things better." 
Mr. Bertomeu's visit came one week before Greek archrivals Panathinaikos Athens and Olympiacos, winners of five out of the last seven Euroleague titles, meet for their first Euroleague game in Greece since 2002. As both teams were fined and lost home games due to incidents during the Top 16 and playoff games last season, Mr. Bertomeu reminded the media that such incidents are now subject to new, tougher rules approved by the clubs in the off-season. 
The media on hand was eager to ask questions on many topics involving the Turkish Airlines Euroleague specifically and the growth of the game internationally. Mr. Bertomeu was asked about the future of the Euroleague schedule with respect to the new FIBA calendar, which will place national team games during the season. "It's not our problem. We can't just stop our season. We are cooperating with them, but they already refused three proposals from our side. If they want, they can have qualification games without NBA and Euroleague players." 
Asked about the Euroleague's relationship with the NBA, Mr. Bertomeu expressed his admiration for new NBA commissioner Adam Silver, who he called "a great contributor to the sport." Mr Bertomeu added, "We have met and I think that we have a future together. We want to increase our cooperation and we want to see things realistically". 
Mr. Bertomeu met in Athens with representatives of both Olympiacos and Panathinaikos as part of an ongoing tour of Euroleague clubs to discuss issues facing the competition.