Intercontinental Cup is back with a bang!
04
oct.
2013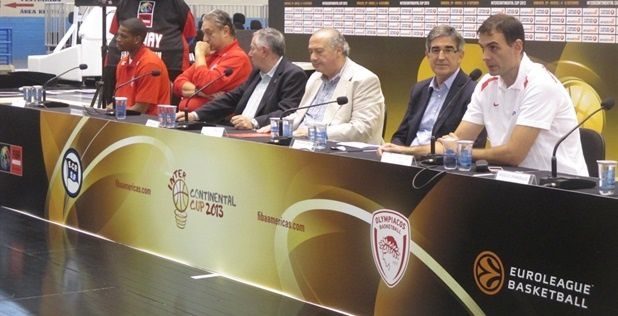 Turkish Airlines Euroleague champions Olympiacos Piraeus of Greece and FIBA Americas League champions Pinheiros Sky of Sao Paulo from Brazil will make history this weekend when they play one another in the revived Intercontinental Cup. A popular event from its foundation in 1966, Euroleague Basketball and FIBA Americas worked together to revive the event starting this season.
The games will be played at Barueri Arena in Sao Paulo. In addition to being one of the largest and most passionate sports cities in the world, Sao Paulo is also a traditional home to the Intercontinental Cup; this weekend marks the fifth time the trophy will be awarded in the city.
The Reds will aim to become the second straight Greek team to lift the trophy; Panathinaikos Athens brought home the Intercontinental Cup when it was last held in 1996. European clubs have won a total of 15 of the 21 editions of the competition, whose name has changed over the course of time. The last time a South American team held the title was in 1983, when Argentina's Obras Sanitarias beat Cantu. EC Sírio is the lone Brazilian club to claim the trophy, which it did in 1979.
The game between Olympiacos and Pinheiros Sky adds to a long and rich history of top Brazilian talents playing with and against Euroleague stars. From the days of the great Oscar Schmidt assaulting baskets in the 1980s and 90s, to Anderson Varejao winning the Euroleague with Barcelona in 2003, Tiago Splitter's years of dominance in the paint and more recently the likes of Barca playmaker and Pinheiros alum Marcelinho Huertas and Unicaja big man Rafael Hettsheimeir, Euroleague players, coaches and fans alike have all had many reasons to show respect to Brazil's best.
Pinheiros Sky's roster features some of the best talents in South America, including swingman and team captain Shammell Stallworth and former South American national champions Jonathan Tavernari and Andre Bambu, all of whom will be at their best for the games this weekend. Both games from Brazil will be broadcast live on LBTV.