Intercontinental Cup: Olympiacos 81-70 Pinheiros Sky
05
oct.
2013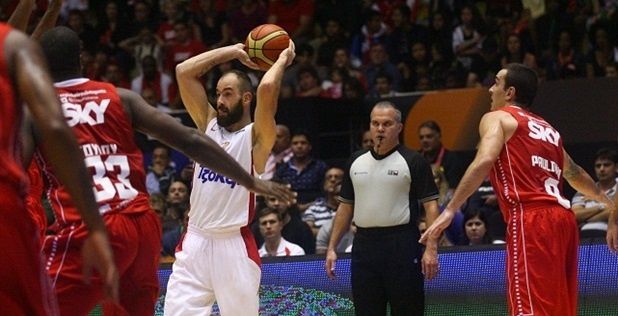 Turkish Airlines Euroleague champion Olympiacos Piraeus won the first Intercontinental Cup game in 17 years by downing FIBA Americas League champ Pinheiros Sky 70-81 on Friday night in Brazil. The Reds broke open a close game by making the fourth quarter their best, and therefore carry an 11-point advantage into the second and last game on Sunday. The winner after Sunday's game by aggregate score will lift the first Intercontinental Cup trophy since 1996. Before that, in 25 editions, the European champion won 21 times. Reigning Euroleague MVP Vassilis Spanoulis scored all 18 of his points in the second half and added 9 assists to pace Olympiacos to victory. Stratos Perperoglou followed with 15 points, while Bryan Dunston added 11 and Matt Lojeski 10 for the Reds. Shammel Stallworth was the game's top scorer with 26 points for Pinheiros. Joe Smith climbed off the bench for 19 points, while Jonathan Tavernari chipped in 12 and Paolinho Boracini 11.
First quarter: Reds move ahead behind Perperoglou
Perperoglou drilled shots from three- and two-point distance on assists by Spanoulis to give Olympiacos the game's first 5 points. Boracini and Souza quickly got Pinheiros on the board, although the Brazilians' offense stalled while Bryan Dunstan scored 4 points to put the Reds up 4-11. Georgios Printezis lifted the difference to a new high of 7-15 before Boracini walked it back, with 2 baskets of his own, to 11-15 at the end of one quarter.
Second quarter: Pinheiros fights back
Georgios Printezis -Olympiacos Piraeus - Intercontinental Cup (photo: FIBA Americas)After Stallworth drilled a triple to open the second quarter by cutting cut the difference to 15-14 before Cedric Simmons and Brent Petway's back-to-back dunks restored a five-point Olympiacos advantage, 14-19. Pinheiros didn't go away, however, and Stallworth made fall-back three-pointers from either wing to forge a 22-22 tie. Joe Smith took the lead for Pinheiros with free throws and a layup, completing a 12-3 run. Perperoglou returned to calm Olympiacos with a jumper before Mirza Begic dunked twice to forge ties, the last at 28-28. Vangelis Mantzaris made his first points from the free throw line to put Olympiacos back in front, but Smith's breakaway layup with 15 seconds left tied it. It was left to Printezis to flip in a familiar baseline one-hander with 2 seconds left for Olympiacos to hold onto a 30-32 advantage at halftime.
Third quarter: Spanoulis time
Mantzaris opened the second half with a triple that Tavernari answered for Pinheiros. Spanoulis made his first basket stepping back in the lane before Mantzaris fed Lojeski for a transition layup and a 33-39 Olympiacos edge. Dueling three-pointers by a Tavernari and Spanoulis followed by the latter's two-point jumper provided the game's biggest lead thus far, 37-44. Again, Pinheiros responded as Tavernari's next triple and Stallworth's fadeaway soon made it 43-45. Spanoulis fed Dunston for one dunk then stole and found Petway for another to stave off the Brazilian team's run, but Pinheiros continued getting points from Stallworth, who was up to 17. Olympiacos got its own from Perperoglou as the teams matched baskets until 47-53, when Spanoulis fired from the arc for the Reds, who stayed ahead 51-56 after three quarters.
Fourth quarter: Reds follow Spanoulis to strong finish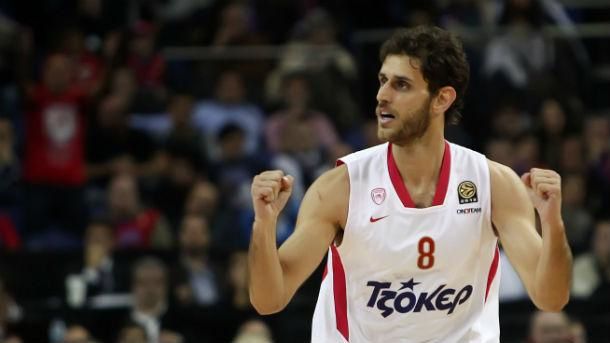 Perperoglou, Spanoulis and Lojeski provided the game's highest lead yet, 53-62, to open the final quarter. Stallworth and Smith returned to get Pinheiros within 53-66, but otherwise the Olympiacos defense ruled into the final five minutes. Stallworth changed that with his fourth triple, but Lojeski answered in kind within seconds to keep Olympiacos safe and Mantzaris pumped in his own for the game's first double-digit lead, 61-71. With the second leg on Sunday and aggregate score difference in mind, neither team relented down the stretch, and when Smith popped a three-pointer for Pinheiros, Spanoulis answered with the same. In the last minute, Spanoulis got three points the hard way after an amazing layup over Souza and the additional free throw. A final dunk on Lojeski's pass to Dunston meant that the Reds had matched the highest lead of the game, 70-81, to take an 11-point lead going into Sunday's deciding game.
Post-game press conference
Claudio Mortari, head coach, Pinheiros Sky: "We have played a good game with very good defensive moments, but at the end of the game we didn't know to manage our energy. In the end it has been decided because of the circumstances with two balls we lost and with the great offensive game of Olympiacos."
Paulinho Boracini, guard, Pinheiros Sky: "We have our first impression and now we know how to play the Intercontinental Cup. If we had kept defending as in the first half, we would have had more options in the game, but in the last quarter, the players of Olympiacos like Spanoulis went a step further and decided the game."
Georgios Bartzokas, head coach, Olympiacos Piraeus: "We expected a hard game, because of the long travel and the lack of information about Pinheiros, and we needed some adapting time at the beginning of the game, to defend better the open shots. But we improved by taking more rebounds and making more passes to find the best shot. We haven´t had much time yet to practice but with each experience the team is getting better and better. We are very happy to have some Greek fans here and we would like to thank them for coming to support us."
Stratos Perperoglou, forward, Olympiacos Piraeus: "We are very happy for the victory as it has been hard to adapt ourselves to the time difference and the new city, but we have won and hope that we will play better next game and win the Intercontinental Cup. There is a difference between European and Brazilian basketball for example in the number of three-points shots and the game rhythm are little bit lower in Europe."