A coaching rivalry for the ages
31
oct.
2013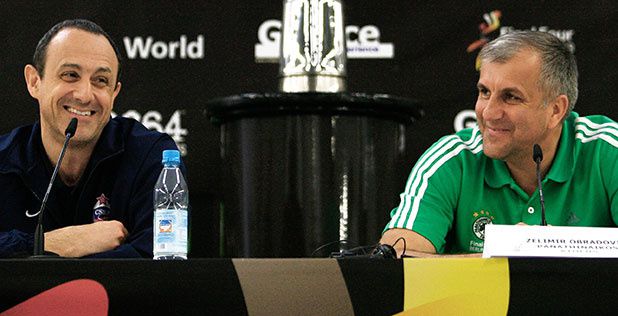 Anyone who considers him or herself a student of the game of basketball should not miss tonight's Game of the Week, because a master class is in session and the professors are coming at you with a double-team.
Zeljko Obradovic was a rookie head coach and Ettore Messina in his third season on the bench when they first matched wits in a Euroleague game back in 1992. Their quarterfinal series, with a Final Four spot at stake, reached the third and final game, of course. Despite trailing by four at halftime, Obradovic's team won 65-69, and within a month he and Partizan, against all odds, were lifting the Euroleague trophy, the club's first and last. Thus began a coaching rivalry that ranks among the greatest in basketball history.
That rivalry resumes tonight, after a nearly four-year hiatus, in the Game of the Week, when Obradovic's new team, Fenerbahce Ulker Istanbul, hosts the one Messina returned to last year, CSKA Moscow. In the 21 years since that first meeting, their accomplishments have put both in the pantheon of the world's great basketball coaches.
Obradovic has racked up a total of eight Euroleague titles, four more than anyone else. Messina is the only active Euroleague boss in the quartet of coaches who are behind Obradovic, with four titles each. Messina is behind by half and not tied with Obradovic by the margin of just two three-point shots, one in each of the last two finals in which they faced each other, in 2007 and 2009. Obradovic and Panathinaikos beat Messina and CSKA, who were defending champions both times, by just 2 points in each game.
In the first, Panathinaikos enjoyed homecourt advantage amid perhaps the greatest basketball atmosphere ever at OAKA in Athens. No one who was there will ever forget the electric charge that ran through the entire arena and sparked riveting basketball on the floor. When one of the greatest finals ever played ended 93-91 you could not imagine a better-played championship game.
And then, their encore in 2009 was nearly as dramatic. CSKA rallied from 23 points behind in the second half to attempt, on the final buzzer, a three-point shot to win it all. It missed, barely, but proved that about the only thing lacking in the epic rivalry between Obradovic and Messina was a buzzer-beater for the title.
Messina spent nine seasons with his first club, Virtus Bologna, while Obradovic was hop-scotching between five teams and winning continental crowns with four of them: Partizan, Joventut Badalona, Real Madrid and Panathinaikos Athens. Obradovic then settled down for 13 years at Panathinaikos, where he added won four more Euroleague crowns, including one in 2002 on Messina's home floor, coming from 14 points behind, in what many consider to be the best coaching performance in a final this century.
After he won the Euroleague twice with Virtus Bologna, in 1998 and 2001, it was Messina's time to wander. He went to Benetton Treviso, CSKA - winning his next two titles in 2006 and 2008 - and then to Real Madrid before a year with the Los Angeles Lakers and his return to Moscow last season. Just when Messina came back, however, Obradovic bowed for a one-year sabbatical. He has returned this season, heading east himself to the Asian side of Istanbul, to lead a team that has never won the title before, Fenerbahce.
Tonight's may be their first game against each other this decade, but their rivalry is just as defining as ever. We are talking about the two coaches who together have won more than half of the Euroleague titles since that first quarterfinal series between them in 1992. Remarkably, there have only been four years in that 22-season span when neither was coaching at the Final Four. In the 12 years between 2000 and 2011, they lifted the trophy an amazing eight times. Does anyone believe that they both won't be in the running for this year's title, too?
Beyond their numbers, however, the Obradovic-Messina rivalry - like all the great ones - has lifted the sport they love. If the first decade of the century brought European basketball to world-class levels, a lot of credit can go to this pair of perfectionists and how they pushed each other and their teams toward excellence. Each had a vision of great basketball and pursued it to the max. That pursuit - not to mention their generosity in teaching their philosophy and basketball knowledge to countless other coaches in clinics - set a new standard of excellence that everyone else has worked to follow, giving us the kind of competition that guarantees intensity, master tactics and devotion at every turn.
Tonight, four years later, it's Obradovic and Messina on opposite sidelines again. What basketball purist could ask for anything more?