Final Four - Preview: Olympiacos Piraeus vs Real Madrid
12
mai
2013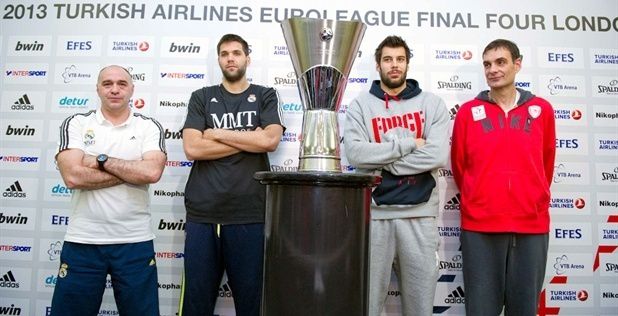 The 2012-13 Turkish Airlines Euroleague season reaches its climax with Sunday's final, in which Real Madrid takes on defending champion Olympiacos Piraeus at The O2 in London, England. These teams also met each other in the 1995 Euroleague final; Madrid beat Olympiacos 73-61 in Zaragoza, Spain, for the most recent of its record eight Euroleague crowns. Olympiacos wants to become the first team to successfully defend the Euroleague title since Maccabi Tel Aviv did so in 2005 in Moscow. If they do, it would be the Reds' third Euroleague trophy.
Controlling the game tempo will be a priority for both teams. Olympiacos used outstanding defense to reach that goal against CSKA in the semifinal, allowing just 52 points and outrebounding its opponent 29-41. The key player for the Reds was Kyle Hines, who offered intensity, energy and great activity off the bench. Hines will once again lead the defensive charge in a frontcourt that also includes tough, blue-collar players Pero Antic, Josh Powell and Giorgi Shermadini. Georgios Printezis, who hit a history-changing, game-winning shot in the final against CSKA last season, will try to use his size and mobility against All-Euroleague Second Team selection Nikola Mirotic in what promises to be one of the critical matchups in this game. In another big matchup between arguably the best two players on the floor Friday night, Hines will hustle and battle for rebounds against Felipe Reyes, who always delivers in games like this one. Reyes will get plenty of help under the boards from Rafael Hettsheimeir, Mirza Begic and Marcus Slaughter, whose defensive skills, athleticism and team-oriented mentality have made him an essential player for head coach Pablo Laso.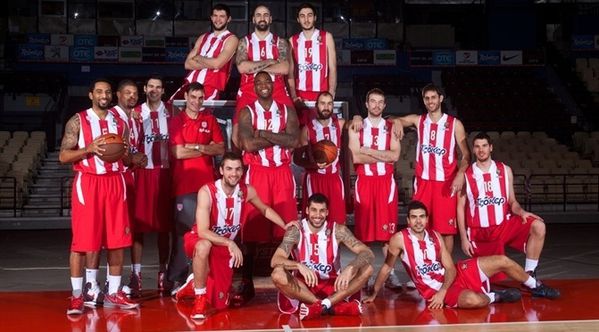 Acie Law could be Olympiacos's starting point guard, with Dimitris Katsivelis ready to bring defense and intensity off the bench. Law will likely see many minutes against creative playmaker Sergio Rodriguez, who changed the game against FC Barcelona Regal in the second quarter with his court vision and determination. Katsivelis must be ready to go against explosive guard Sergio Llull and former Eurocup MVP Dontaye Draper. Llull, however, will see a lot of playing time against reigning Euroleague MVP Vassilis Spanoulis, whose experience and all-around skills make him the player to stop. Olympiacos also has good options on the wings, such as 2012-13 Rising Star trophy winner Kostas Papanikolaou, small forward Stratos Perperoglou and clutch guard Kostas Sloukas. Papanikolaou and Perperoglou must be ready to stop All-Euroleague First Team forward Rudy Fernandez, who will try to connect from downtown and play above the rim, and Carlos Suarez. Sloukas and Spanoulis must do their best to slow Jaycee Carroll, who offers instant offense as Los Blancos' sixth man.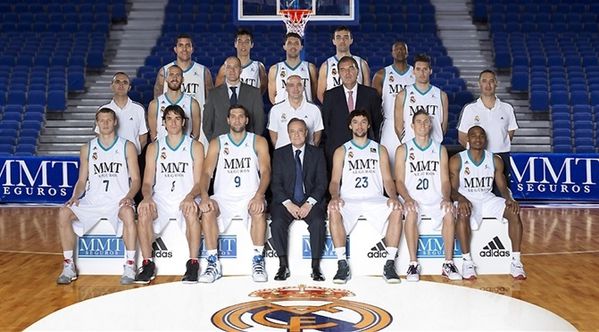 The whole season comes down to one game, so taking care of small details will be critical for both teams. Olympiacos needs to run its offense through Spanoulis and Papanikolaou and of course, if it is able to repeat the defensive, physical effort it had against CSKA, it will get closer to defending its throne. Madrid needs a good game from Fernandez and Mirotic, but just like against Barcelona, the team relies on a talented, deep second unit led by Reyes, Rodriguez and Slaughter to step up if need be. Whoever controls the boards and handles the pressure better will be... the 2012-13 Turkish Airlines Euroleague champion!
QUOTES
HEAD COACHES

BARTZOKAS, GEORGIOS (Olympiacos Piraeus)
"Obviously the challenge in the final is huge as well is our motivation to get the title. Madrid is the wsinningest team in European basketball with so many titles. It's a huge club. We are going to play a completely different team from what we faced yesterday. This team has enthusiasm, speed and is very good offensive rebounding, which will be very difficult for us We have to be very quick on defense and in our attack. The psychology is very important. The physical and psychological aspects are equal. I don't know if it will be a high-scoring or low-scoring game, but it will be attractive basketball.
"My players read and know what happens in our country. In Greece the enthusiasm for basketball is excessive. That's in our Mediterranean character. We have to control ourselves. My players are very good at taking in the information that I give them. They want to do their best and they prepare for their best. I don't agree that we haven't done anything so far and that only the cup matters. Coming here was already a very big success. I'm optimistic that we'll come to the final with a good attitude.
"We are not going to train tomorrow morning. The distance is too big in London. What is of interest to us is the training this afternoon.
"Yesterday we had a defensive plan which did not include only [Milos] Teodosic. I think players like Khryapa, Kirstic and Weems require a big effort to be stopped. We played as a team. We restricted Teodosic, but the other work was equally as important. Madrid is deep and has players that can do everything. Their three guards [Rudy Fernandez, Sergio Llull and Sergio Rodriguez] are very important, but they have Reyes, Slaughter, Mirotic, you cannot single out one or two or three players. We came [Friday] with our teamwork and we will try to do that tomorrow.
"Neither of us have experience in a final as coaches. Apart from preparing the team for the semifinal we prepared video for the other two teams. The coaches reviewed video last night and we have more video before today's practice to show our players what to expect. That [Coach Laso and I] haven't played finals before is not an advantage or disadvantage because neither of us has. There are no surprises, they know how we play and we know how they play.
"I agree completely with Coach [Laso]. We play in a Final Four with four great teams. We cannot personify what happened last night and talk about the coaches. It does not mean that we are better than other coaches. It means that our teams were better. We hope that tomorrow our teams will do a better job and we will win."

LASO, PABLO (Real Madrid)
"When you have two teams so deep, with so many talented players, it is very difficult to know which players' matchups will be critical. Sloukas, Spanoulis and Law make Olympiacos strong at both guard positions, as my players do, too. I do believe that there are two frontcourt players which are very similar, Marcus Slaughter and Kyle Hines, with similar characteristics. I think that Georgios and Felipe are glue guys for their teams. In the end, in a game at this level, there are decisive matchups, but the most important thing is to translate them into a team effort. This is a team game and whoever plays better as a team will win the game.
"I think that experience is important because it gives you wisdom. The more you go to class, the more you learn; that is logical, but there is people that go to school all their life and never learn. Ettore Messina and Xavi Pascual are two great coaches. I didn't beat Pascual and he didn't beat Xavi; Madrid beat Barcelona and Olympiacos beat CSKA. I have great respect for all the coaches I play against. Coach Bartzokas did a great job and I wish him luck starting on Monday.
"I respect the Spanish Federation's work and the way they start working with kids. The Spanish basketball success at all age categories start with little kids who get that competitive gene from when they are young. I have been to youth championships and see how that competitiveness grows. Teams have different chemistry and situations, players from other countries who don't feel as they do with their national teams. I think I have a group of Spanish players that know each other for a long time and are looking to pass on that chemistry to players from other countries. Getting that chemistry is critical for me as a coach."

SPANOULIS, VASSILIS (Olympiacos Piraeus)
"The key to the game will be to control and slow down the tempo of the game. To know when to run, and when to play set offense. We have to control rebounds, because Real Madrid is very aggressive and probably the best team in Europe on offensive rebounds. We have to play with the same energy and the same passion, and we will see which team will want it more. Last year the entire season we were the underdog, and this season everybody was waiting for us as the Euroleague champions, and we managed to do the same and make it to the finals again. That means a lot for this club, and for our character, and for what we deserve. I think we deserve to be here, one win away from winning the trophy."

FERNANDEZ, RUDY (Real Madrid)
"The way they played against CSKA last night, you can tell that Olympiacos's players have known each other for a long time. It is a group of players that play together, as a team, knowing each other. They thrashed CSKA yesterday, showing it is a great team with a lot of experience in these kinds of games. I believe Olympiacos is a tougher opponent for us than CSKA in this final. Olympiacos knows how to play a Euroleague final. They know they have nothing to lose and in that sense, that allowed them to play the way they did last night. If I had to choose, I would say that Olympiacos is more experienced than us in this situation."

HINES, KYLE (Olympiacos Piraeus)
"Being back to the Euroleague final shows the great character of our team. We have great guys on this team, everybody worked very hard and this is a goal we had set in the beginning of the season. For me, it is amazing that we accomplished after so many up and down moments this season. Madrid is a very talented team. They have great offensive weapons and are a really good team; some of them also play together in the Spanish national team. Our keys don't really change. We have to be very strong, physical and aggressive in the defensive end and rebound. They are the best rebounding team in the Euroleague so it is important for us to control the tempo, the rhythm of the game by rebounding, getting in transition to run and do what we do best."

CARROLL, JAYCEE (Real Madrid)
"It is great to be in the Euroleague final. I am very excited to be here, it is a dream-come-true. We need to match their aggressiveness and physicality. They are a physical team that is very aggressive on defense. We cannot be on our heels all day. We need to be aggressive, go towards the basket and look for opportunities. They played great defense against CSKA, but they have a different style than we do. CSKA tries to create mistakes and take advantage of them, but Olympiacos did not make those mistakes. Like I said, we have a different style and hopefully we will have a better result against Olympiacos."

ANTIC, PERO (Olympiacos Piraeus)
"This is no coincidence [being back in the Euroleague final]. We worked hard for this all season and wanted to prove to everyone that we deserved to be here. It was a big challenge for us and we answered it pretty well. We played 40 minutes of great defense against CSKA. Sometimes we play periods of good and bad defense, but not against CSKA. That was the key - repeat the defense. I don't care about the offense, if we play that kind of defense against Madrid, the same we did against CSKA, I am sure we will win the game. Winning again would mean a lot to all of us. I dreamed about it for many years. I won it once and now have the opportunity to win it twice, to be the second team to repeat in the Euroleague. It would be a dream come true."

MIROTIC, NIKOLA (Real Madrid)
"We worked the entire year to come to this game, and now we the only thing on our mind is to beat Olympiacos. We need to know that they are the Euroleague champions from last season, and if we want to beat them, we need to play a complete game. Against Barcelona, for instance, we played 20 to 25 minutes good, but to win the title we will need to extend that to all 40 minutes. We need to stay calm before games like this final, there is enough pressure already, and you should stop pressing yourself even more. But when gametime comes, we need to look one step ahead. Our key to this season's success is that we play stellar basketball, especially on offense, but in some important games this season we proved we can also play good defense, as well."

REYES, FELIPE (Real Madrid)
"As with every final, it is going to be a very tough game against a great team that defeated the theoretical favorite by playing very aggressive defense and very beautiful basketball. It will not be easy at all, just like in any final. It will be very balanced and I hope that we come out motivated and focused, not being nervous about being in the final, so that we can lift the trophy.
"As Georgios said, they are more experienced in the Final Four because they played the final last season and won the title, playing an outstanding game. I believe that even though we haven't played a Euroleague final before, we were in very important finals at the national team level and have the experience required for games like this. We will see which of the two teams has more problems to handle the pressure, but both teams are very experienced in games like this.
"We put the right pressure on ourselves. We want to achieve this dream of lifting the Euroleague trophy. We don't need anyone from outside or you, the media, to tell us that Real Madrid has not won the Euroleague for many years. We try to focus on our work and not pay too much attention to what you say, because that could go against us. It is true that we are all working hard to have a good game tomorrow and to take the trophy to Madrid. It will be difficult; Olympiacos is at a high level, but that's the goal."

PAPANIKOLAOU, KOSTAS (Olympiacos Piraeus)
"It is a big chance to make history and defend the Euroleague title, that would be a big thing for our club. But we do not want to think like that. We want to stay concentrated and think about the final like it is another game. Try to enjoy it, do our simple stuff, think about what coaches told us and what the tactic is. But we all know that in these games it is not a matter of tactics or strategy, but it is a matter of heart. Who wants it more and who shows more passion for the win. We were in this same situation last year, but every final is different, it is a new challenge."

PRINTEZIS, GEORGIOS (Olympiacos Piraeus)
"For me and for us it is a great honor to find ourselves in the final after this difficult season and to be able to challenge for the trophy. It's not very easy for our country to have a team in the Final Four every year. In our opinion our opponent has a better team, better players, big bodies. They are in good form. It will be very difficult. If we want to have a chance, we have to show same strength and focus as we did yesterday.
"Experience is very important, especially in the Final Four. It depends on the day. Many Real Madrid haven't played finals in the Euroleague, but they have in the national level. They can manage very well, just like us. And we proved that yesterday.
"Everything positive from our team starts with defense."
PROBABLE STARTERS

Olympiacos
- Acie Law (guard)
- Vassilis Spanoulis (guard)
- K. Papanikoaou (forward)
- Georgios Printezis (forward)
- Josh Powell (center)

Real Madrid
- Sergio Llull (guard)
- Rudy Fernandez (guard)
- Carlos Suarez (forward)
- Nikola Mirotic (forward)
- Mirza Begic (center)
GAME NOTES
Olympiacos Piraeus
- Twelve different Olympiacos players have appeared in the starting lineup this season. Vassilis Spanoulis is the only player to have started every game.
- Spanoulis leads the league lead in fouls drawn with 5.47 per game.
- Spanoulis needs 28 more points to become the 13th player in competition history to reach the 2,000-point milestone.
- Kyle Hines leads the league in offensive rebounding with 2.63 per game.
- Hines averaged 13.5 points on 66.7% shooting, 6 rebounds and 1.5 blocks in his only two previous games against Madrid – one win and one loss – during the 2010-11 season with Brose Baskets Bamberg.
- Kostas Papanikolaou is this season's most accurate three-point shooter at 53.2%.
Real Madrid
- Real Madrid leads the Euroleague in rebounding with 36.9 per game and in offensive rebounding with 12.5 per game.
- Felipe Reyes tied Mirsad Turkcan as the competition's all-time leader in offensive rebounds with 385 when he collected 4 in the semifinal. He will become the Euroleague's career offensive rebounding leader with his next one.
- Mirza Begic is seventh place on the all-time shots blocked list with 119 career blocks. Marcus Goree is sixth with 120 career rejections. Begic has blocked at least 1 shot in seven straight games.
- Sergio Llull needs 4 more points to reach the 1,000-point milestone for his Euroleague career.
- Jaycee Carroll has made 10 consecutive free throws in Euroleague action.
Trafalgar Square (FAN ZONE)