Euroleague Basketball and three London football clubs partner for One London!
01
mai
2013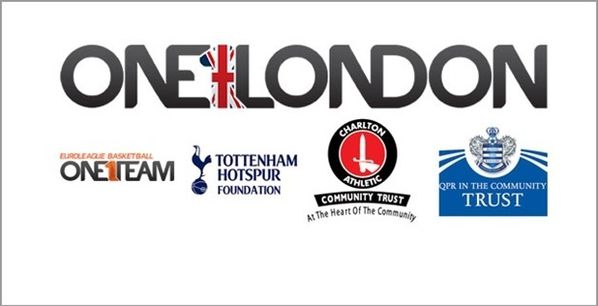 One Team, Euroleague Basketball's acclaimed social responsibility programme, has announced a groundbreaking collaboration with three of the United Kingdom's leading exponents of social development through sport to create ONE LONDON, a legacy project to bring positive and lasting change directly to struggling groups in their local communities. 
ONE LONDON is an innovative partnership between the two most popular team sports in the world, basketball and football. The One Team program, supported by 15 of the most important basketball clubs of the continent, will join forces with the CSR programmes of three leading football teams in sport and social development: the Charlton Athletic Community Trust, the Queen's Park Rangers Community Trust and the Tottenham Hotspur Foundation. All three have very well industry-leading reputations for community outreach. 
The common collaboration project ONE LONDON will see the clubs using sport to tackle relevant social issues. This unique partnership between two sports will be taken back to their communities and activated as a legacy programme that will start with the 2013 Turkish Airlines Euroleague Final Four at The O2 on May 10-12 this year. 
"This is a significant step for Euroleague Basketball and its One Team programme, as we introduce a different sport for the first time, thus increasing the possibilities of having wider social impact," Jordi Bertomeu, CEO and president of Euroleague Basketball, said. "All three partners of One London are leaders in using sport as a tool for social change. We are very excited to be teaming up with them, as well as to be forging cooperation across Europe between these leading football and basketball clubs. It is a clear example of sport joining together to make a positive contribution to those around us." 
Speaking on behalf of the ONE LONDON clubs, Jason Morgan, Chief Executive of Charlton Athletics Community Trust, said: "We were all very excited to be approached by Euroleague Basketball to cooperate on projects that will support communities in and around London. One London shows that whether you kick a ball or bounce it, sport can be used as a very powerful way of breaking down barriers." 
Grant Cornwell, Chief Executive Officer of Tottenham Hotspur Foundation, added: "We have a long-term, proven track record of working with our communities. Football and basketball are very effective ways of communicating and reaching out to young people. It's an exciting partnership and we're very glad to be a part of it. " 
Andy Evans, CEO of Queen's Park Rangers Community Trust, said: "QPR is excited to be a founding partner of One London and our joint collaboration will give us the chance to share our skills and experience. It's a win-win for basketball and soccer, and especially for the young people we work with." 
ONE LONDON is going to be the One Team's flagship legacy programme in the UK. It will be showcased throughout Turkish Airlines Final Four weekend: at the "Innovation in Sports Business Summit", where a representative from the three clubs will be speaking about the partnership; through the involvement of a group of One London kids on May 10 in Trafalgar Square; and through the Turkish Airlines Euroleague Final Four semifinal games, where a group of One London children will be invited on court at The O2.