Eurobasket - Preview: Lithuania vs Italy
18
sept.
2013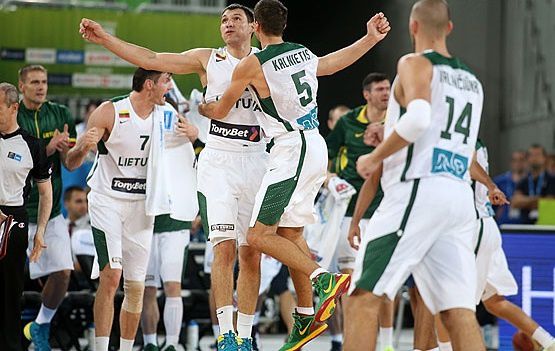 This match-up features one team that expected to be in the EuroBasket 2013 quarter-finals and another which is living on a dream since getting past the First Round.
Lithuania returns to the final eight for the fifth time in the last six EuroBaskets and eighth time in the 10 tournaments since the 1995 tournament - the country's first since breaking away from the Soviet Union.
Lietuva, however, has collected just one bronze (2007) since taking the title in 2003.
Lithuania started their tournament with a loss to Serbia and were nearly bounced from the competition with a loss to Bosnia & Herzegovina on the final day of First Round action. But after a team meeting between the group stages, Jonas Kazlauskas's team raced through the Second Round with three straight wins over France, Belgium and up-start Ukraine.
Italy meanwhile were ravaged by injuries in the build-up to the championship and downgraded expectations to solely getting past a strong First Round group featuring Russia, Turkey, Finland, Greece and Sweden.
Coach Simone Pianigiani's team was the only side in the entire tournament to go undefeated through the First Round playing a high-energy, team style of basketball.
Italia then lost to Slovenia and Croatia before taking down Spain to reach the quarters. The Italians are in the final eight for just the second time since taking the 1999 title.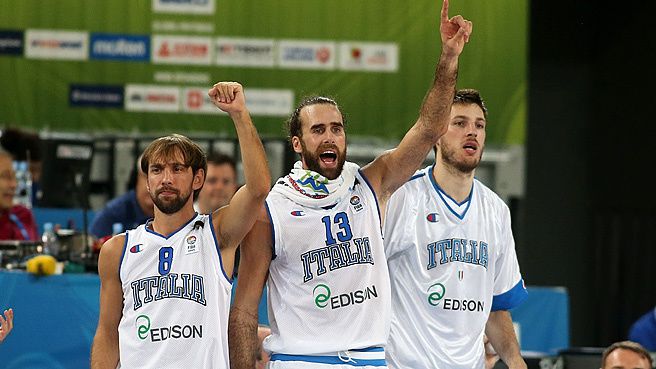 Like the Lithuanians, they too have fond memories of 2003 when they won bronze. At least one victory must be the goal for Italy - which would then most likely qualify them for the 2014 FIBA Basketball World Cup.
The winner of this quarter-final will take on the winner of the quarter final between Croatia and Ukraine.
Stats Don't Lie: Both teams do not gamble much on defence (both in the bottom seven in steals) and instead rely on tough positioning defence. Lithuania are second overall in opponent field goal percentage (38%) and second in opponent three-point shooting (27.4%) while Italy rank sixth (41.2%) and ninth (31.7%) in those respective categories. To that effect, Lithuania allow the second fewest points (66.1 per game) while Italy are eighth (72.5). Lithuania will have to work hard to stop Italy's three-point attack - second best at 40.0% - and Italy also do not shoot themselves in the foot by hitting 76.3% from the free throw line. Italy's discipline can also be seen in committing just 10.8 turnovers-per-game - third fewest in the tournament. Lithuania also value ball possession with just 12.1 turnovers-per-contest. Rebounding could be a big factor with Lithuania third in total rebounds (39.5) while Italy are just 16th (34.9). Lithuania are also extremely deep with 11 players playing at least 11 minutes-per-game - only Robertas Javtokas is under double digits with 8.7 minutes-per-game.
Key Match-Up: The power forward position could decide this encounter as Lithuanian Linas Kleiza faces Italian Luigi Datome. Kleiza's outside shooting ability will not allow Datome to collapse and help on the Lithuania big players inside. Kleiza will also be well-served to make Datome run around screens and work even harder on defence and tire him for offence. Italy, however, will need Datome to produce offensively as well.
They Say:
Lithuania center Jonas Valanciunas: "It's not going to be easy. Italy is a really good team. They have the best shooters in this tournament. It's going to be really hard work."
Italy coach Simone Pianigiani: "Lithuania play very good. I know the players very well. They know basketball. Basketball is their life. We are happy to play these kinds of teams because now only the strongest teams are here. I think if we hit the open shots we get we can stay in the game against everybody."