DeMarcus Nelson named MVP of the week
09
nov.
2013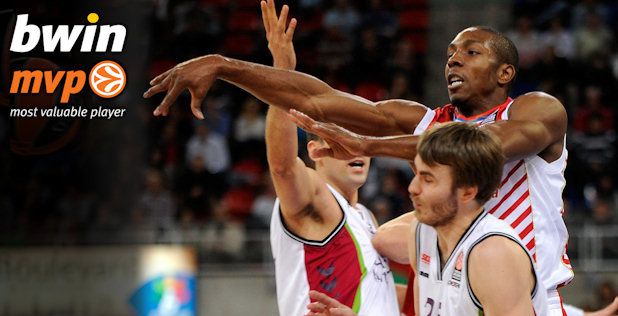 With his team going to a tough arena still looking for a first Turkish Airlines Euroleague win, DeMarcus Nelson stepped up to lead Crvena Zvezda Telekom Belgrade to a stirring victory on Thursday that also made him the bwin MVP for Round 4 of the regular season. Only five days after his 28th birthday, Nelson posted Euroleague career-highs in points and rebounds as Zvezda pulled out a historic 63-73 victory - its first in this century's Euroleague - over Laboral Kutxa in Vitoria, Spain. Nelson rolled up 22 points by making 6 of 7 two-pointers, 2 of 3 shots from the arc, and all 4 of his free throws. He also pulled 7 rebounds, and dished 2 assists for a performance index rating of 31, the most among all players on winning teams in Round 4. The top index rating of the week belonged to Strasbourg center Alexis Ajinca. In a losing effort against Real Madrid in the Game of the Week, Ajinca collected 23 points, 8 rebounds, 3 assists, 2 steals and 2 blocked shots for an index rating of 34. Next among the five performances for Round 4 was Malcolm Delaney of FC Bayern Munich, whose 19 points and 11 fouls drawn for a 30 index rating helped defeat Unicaja Malaga 82-68. The remaining two spots in the top five were shared by Real Madrid swingman Rudy Fernandez and Partizan NIS Belgrade power forward Joffrey Lauvergne, who both had index rating of 28. Fernandez netted 24 points on 5 of 9 three-point shooting, along with 3 assists, 3 steals and 6 fouls drawn as Madrid won 66-85 against host Strasbourg. Lauvergne had his first double-double of the season with 20 points plus 10 rebounds in a 78-88 home loss to Fenerbahce Ulker Istanbul. 
MVP Video 
Individual leaders: Partizan's Lauvergne posts only double-double
Bojan Bogdanovic of Fenerbahce Ulker Istanbul was Round 4's top scorer with 26 points, enough for him tie Ajinca as competition's leaders after four games with 20.3 points on average. Sharrod Ford of Brose Baskets Bamberg pulled the most rebounds this week, 12, while Lauvergne tops that category overall with an average of 11.8. Emir Preldzic of Fenerbahce and Dimitirs Diamantidis of Panathinaikos Athens, who was playing in his 200th Euroleague game, dished 8 assists apiece. Diamantidis leads all Euroleague players with 8.3 assists per game. Bryce Taylor of Bayern Munich and Charles Jenkins of Crvena Zvezda had week-highs of 4 steals. Jenkins is one of four players tied with 2.5 steals per game, along with Jamon Gordon of Anadolu Efes, Bo McCalebb of Fenerbahce and Dajuan Summers of Budivelnik Kiev. Mirza Begic of Olympiacos Piraeus and Othello Hunter of Montepaschi Siena each had 4 blocks in the game they played against each other this week. Semih Erden of Anadolu Efes leads all blockers with 1.75 per game. Lauvergne, with 20 points and 10 rebounds, had the only double-double in Round 4.