Darjus Lavrinovic named MVP of the week
14
déc.
2013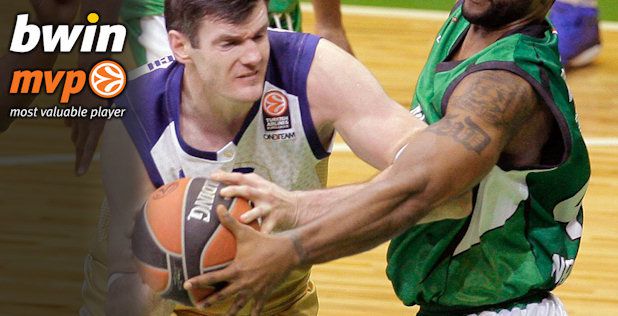 In the last home game of the first Turkish Airlines Euroleague season in Ukraine, Darjus Lavrinovic gave Budivelnik Kiev fans a performance to remember as he ran away with the bwin MVP honor for Regular Season Round 9. The 34-year-old former All-Euroleague center was unstoppable as Budivelnik outgunned visiting JSF Nanterre 97-87 on Friday. Lavrinovic matched the highest scoring of any Euroleague player this season, 29 points, by making 5 of 5 two-point shots, 4 of 5 from long distance and all 7 of his free throws. He also pulled down 10 rebounds, dished out 4 assists, blocked 3 shots, while amassing a performance index rating of 44. It was by far the top-rated performance by any Euroleague player this season and the second-best of the last four years. Next on the list of the top individual performances with an index rating of 35 was Nikola Mirotic of Real Madrid. In his team's 79-66 win over Strasbourg, the forward tallied 22 points, 6 rebounds and 9 drawn fouls. Fenerbahce Ulker Istanbul forward Emir Preldzic compiled a 33 index in his team's 77-79 home loss at the hands of Partizan NIS Belgrade. Preldzic collected 21 points, 7 assists, 6 rebounds and 6 fouls drawn. Rounding out the list of Rond 9's best were Galatasaray Liv Hospital center Zoran Erceg and Gani Lawal of EA7 Emporio Armani Milan. Erceg tied his career-high 19 points and added 5 rebounds, 3 assists and 7 drawn fouls for a 30 index in less than 21 minutes on the floor to lead his team to a 76-57 victory over Stelmet Zielona Gora. In a crucial, Top-16 clinching 74-73 win over Brose Baskets Bamberg, Lawal had a career-night amassing 17 points, 10 rebounds and 3 blocks for an index rating of 27.
MVP Video
Individual leaders: Furkan Aldemir of Galatasaray, 16 rebounds
Lavrinovic was Round 9 top scorer with 29 points. He is tied for ninth in the league with 15 points per game. Bojan Bogdanovic of Fenerbahce remains the league's top scorer with 17.9 per game. Furkan Aldemir of Galatasaray pulled down 16 rebounds, which is tied for the most in a game all season! Aldemir ranks seventh in the league with 7.1 rebounds per game. His suspended teammate Pops Mensah-Bonsu leads the competition with 11.4 per game; Joffrey Lauvergne of Partizan NIS is second with an average of 9.8 rebounds per night. Trent Meacham of JSF Nanterre led all players this week with 10 assists. Former Euroleague MVP Dimitris Diamantidis of Panathinaikos Athens is the 2013-14 Euroleague assists leader at 7.1 per night. Budivelnik's Ricky Minard recorded a career-high 6 steals, more than anyone this week. Charles Jenkins of Crvena Zvezda Telekom Belgrade and Jamon Gordon of Anadolu Efes average 2.2 steals per game, the best marks in the league. Lavrinovic, Lawal, Lamont Hamilton of Laboral Kutxa, Tarence Kinsey of Partizan NIS and Luka Zoric of Fenerbahce each rejected 3 blocks to lead all Round 9 participants. Olympiacos Piraeus' Bryant Dunston leads all players this season with an average of 1.9 per game. A total of nine players recorded double-doubles in Round 9. Meacham tallied 14 points and 10 assists, while the remaining players had double-doubles in points and rebounds. Another Nanterre player, Mam Jaiteh had 14 points and 11 rebounds. Lavrinovic (29 points, 10 rebounds), Lawal (17 and 10) and Aldemir (11 and 16) are joined by Anadolu Efes's Scotty Hopson (13 and 11) and Semih Erden (14 and 13), Zalgiris Kaunas center Robertas Javtokas (11 and 10), and reigning All-Euroleague center Ante Tomic of FC Barcelona (10 and 10).