Bryant Dunston named MVP of the week
02
nov.
2013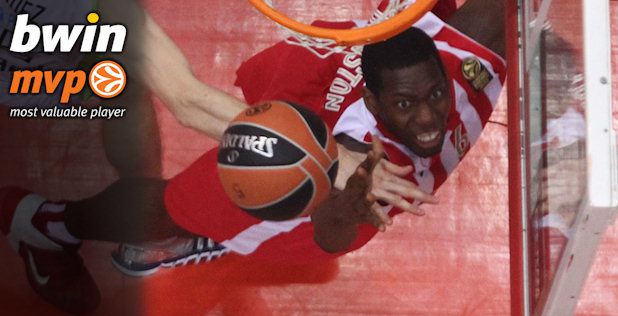 He may be a Turkish Airlines Euroleague rookie, but Olympiacos Piraeus forward Bryant Dunston proved Thursday that he landed in the right place with the two-time defending champs, claiming bwin MVP honors for Regular Season Round 3. The 27-year-old Dunston played a major role in his team's come-from-behind 88-83 victory over FC Bayern Munich, amassing 19 points, 8 rebounds and 3 blocked shots for a performance index rating of 33, which was the most of any player in any of the round's 12 games. Dunston made 7 of 9 shots, was perfect in 5 trips to the line and also dished an assist and picked up 2 steals as part of his impressive stat line. Next on the list of the top individual performances with index ratings of 31 were two veteran forwards, Andres Nocioni of Laboral Kutxa Vitoria and Darjus Lavrinovic of Budivelnik Kiev. Nocioni scored 20 points to go along 9 rebounds, 2 steals, a steal and 11 fouls drawn in his team's road win at Lietuvos Ryts Vilnius. Lavrinovic was instrumental in Budivelnik's first ever Euroleague victory, collecting 22 points, 8 rebounds, 3 assists and 2 blocks against Partizan NIS Belgrade. Rounding out the list of the round's top performers are Joe Ingles of Maccabi Electra Tel Aviv and Nikola Mirotic of Real Madrid. Ingles had another big game – 14 points, 10 rebounds, 4 assists, a steal and 6 fouls drawn for index rating 30 – as Maccabi bested Lokomotiv Kuban on the road. Mirotic had an index rating of 28 - 19 points, shooting 6 of 6 from the field and 6 of 6 from the foul line, with 6 rebounds and 2 assists – as Madrid routed EA7 Emporio Armani Milan.
Individual leaders: Semih Erden of Anadolu Efes Istanbul, 6 blocks
Another newcomer in the competition, Nikos Pappas of Panathinaikos Athens, was the Round 3 top scorer, netting 24 points in a come-from-behind overtime win at Crvena Zvezda Telekom Belgrade. Mirotic is the season's top scorer with 20.7 points per game. Young forward Joffrey Lauvergne of Partizan NIS pulled down 13 rebounds to lead the league in Round 3, and he is also the Euroleague's leading rebounder with 12.3 per game. Omar Cook of Lietuvos Rytas and Jamont Gordon of Galatasaray Liv Hospital Istanbul each had 10 assists this week. The season leader, however, is Dimitirs Diamantidis of Panathinaikos with 8.33 per game. Five players recorded 4 steals in Round 3, Diamantidis, Sergii Gladyr of JSF Nanterre, Charles Jenkins of Crvena Zvezda Telekom, Paul Lacombe of Strasbourg and Bo McCalebb of Fenerbahce Ulker. Jamon Gordon of Anadolu Efes and Dajuan Summers of Budivelnik lead the league with averages of 3.0 steals per game. Semih Erden of Anadolu Efes Istanbul had 6 blocks to lead all players in Round 3, and he took the overall lead for the season with 2.0 blocks per game. Ingles, Cook, Gordon, Georgios Printezis of Olympiacos Piraeus and Pops Mensah-Bonsu of Galatasaray all registered respective double-doubles this week.