ADIDAS AND EUROLEAGUE BASKETBALL ANNOUNCE OFFICIAL PARTNERSHIP FOR TURKISH AIRLINES EUROLEAGUE FINAL FOUR 2013
23
avr.
2013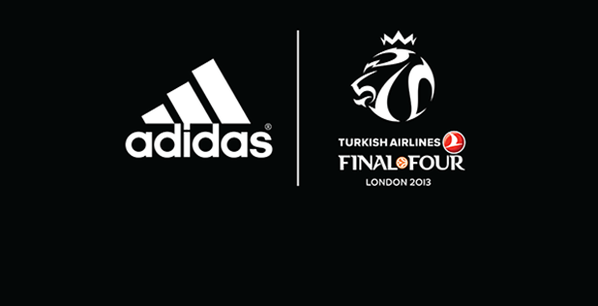 Euroleague Basketball and adidas today announced a new partnership to grow basketball in Europe and the UK and help fans celebrate the 2013 Turkish Airlines Euroleague Final Four in London from May 10-12.
As Final Four partner, adidas will have in-arena presence at The O2, media rights during Euroleague broadcasts that air in over 190 countries and exclusive rights to produce official event apparel. adidas and Euroleague will also host several local fan activations including a 3-on-3 fan tournament played at the Turkish Airlines Euroleague Fan Zone at London's iconic Trafalgar Square.
"We are very happy to welcome adidas to the Euroleague Basketball family and their position to move the game forward and provide the best product for athletes and fans align perfectly with our goals," said Mr. Jordi Bertomeu, Euroleague Basketball President and CEO. "We're excited to continue using our unique platforms and partners to support and develop basketball in the United Kingdom."
The presence of adidas at the Final Four will ensure that excitement for basketball following the London Games continues to grow globally, but also within the United Kingdom.
"The world watched Europe's passion for basketball during last summer's games, and we're excited to partner with Euroleague Basketball to continue that momentum and grow the game through great fan experiences and products," said Lawrence Norman, adidas vice president of global basketball.
About adidas:
adidas has been providing innovative products for the world's best athletes for more than 50 years, from past legends to today's superstars, such as Derrick Rose, Dwight Howard and Candace Parker. On April 11, 2006 adidas and the National Basketball Association signed an 11-year global merchandising partnership making the adidas brand the official uniform and apparel provider for the NBA, the Women's National Basketball Association (WNBA) and the NBA Development League (D-League) beginning with the 2006-07 NBA season.
adidas European basketball partners include Great Britain, Turkey, Croatia, and Latvia men's national teams and Euroleague teams including Panathinaikos Basketball Club, Real Madrid, BC Zalgiris, Alba Berlin and Brose Baskets Bamberg. adidas partner athletes include 2011 Euroleague MVP Dimitris Diamantidis and NBA standouts Ricky Rubio, Serge Ibaka, Danilo Gallinari and Nicolas Batum.
adidas will host the eleventh annual adidas EUROCAMP that will showcase the best international players in the only NBA sanctioned pre-draft camp outside of the United States. Held in Treviso, Italy, June 8-10 in 2013, the three day camp brings the best international talent together with former and current NBA coaches and players.
About the Turkish Airlines Euroleague:
Global leader in sports management, Euroleague Basketball is enjoying its second decade of sustained growth as an innovative organizer of elite competitions and events. Euroleague Basketball was founded in 2000 under a private organizational model considered a breakthrough for European professional team sports. It now manages the continent's two premier basketball competitions, the Turkish Airlines Euroleague and the Eurocup, consisting of more than 60 teams from as many as 25 countries. Each season culminates in the naming of a continental champion at the Turkish Airlines Euroleague Final Four, now a signature event on the world sports calendar. All recent Final Fours have been broadcast live to nearly 200 countries on all five continents, matching the company's growth both on line and in arena attendance. Euroleague Basketball also directs the Nike International Junior Tournament, a half-year competition involving teams from all over the world which crowns a young men's champion each spring. Off the court, through the Euroleague Basketball Institute and Euroleague One Team, the company promotes educational and charitable initiatives as varied as coaching clinics and benefit concerts that draw guests from around the world.