NCAA : after six years of learning, Mamadi Diakite is already ready for the NBA
24
févr.
2020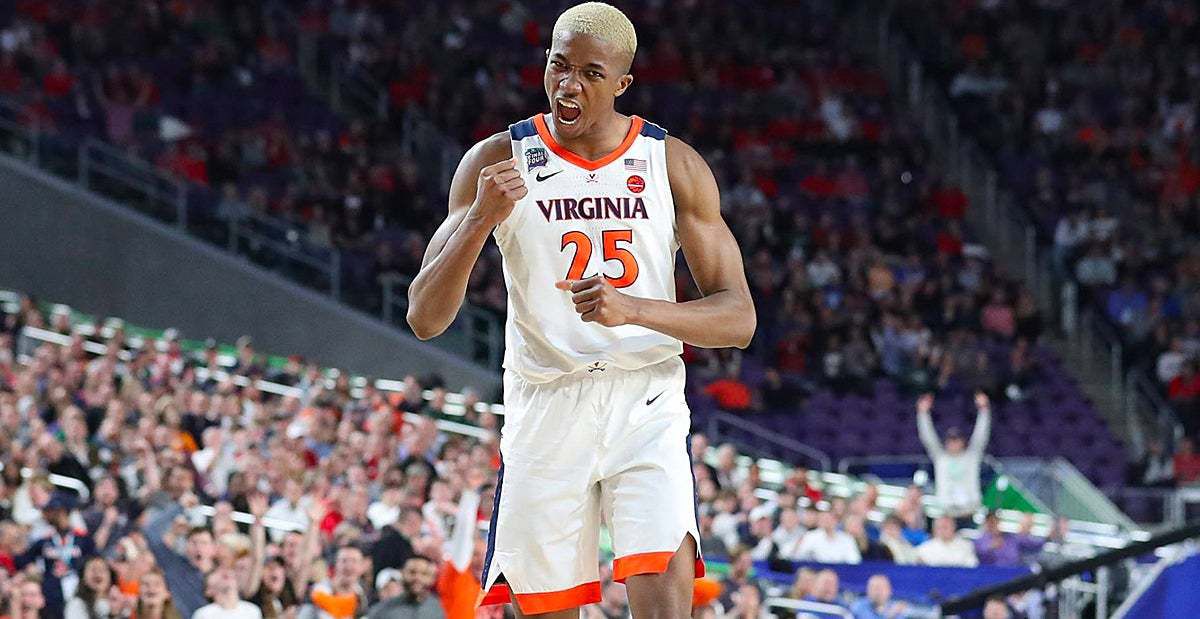 A curious story to start the week on News Basket Beafrika. In today's edition, we have Guinean winger Mamadi Diakite of Virginia.
Born January 21, 1997 in Conakry, the capital and largest city of Guinea; Diakite's first choice in sport was not basketball, but football. Over time, Diakité started playing basketball (due to his size) and began to attract attention. Thanks to Facebook, the social network on which his older sister Adama posted one of his training videos, he was contacted by his compatriot and former Loyola-Marymount athlete, Hassan Fofana, who earned him a scholarship on the circuit. American school.
Diakite joined American high school in 2014, where he went to work at the Blue Ridge School in Virginia. The young African was again helped by a compatriot. Mamadi Diane, a former Virginia Cavaliers player, helped him adapt to the new country. Diakite not only joined the basketball team, but also football and high jump. In his last school year, he averaged 12 points; 8 rebounds and 4 blocks per game.
For the NCAA, he has been courted by many universities including the USC, Washington and Virginia. Following the path of his compatriot Diané, he opted for the latter.
Instead of entering the 2015-2016 season, Diakite used his first year as an adaptation to university life. Thus, he only trained with Cavaliers but did not play.
He made his field debut the following season, 2016-17, where he did not reach the title (unlike many names that pass by here). He had low averages: 3.8 points; 2.6 rebounds and 1.2 blocks per game.
In the following season, 2017-18, he has yet to make a major five debut. Diakite averaged 5.4 points and 3 rebounds per game, and became an important name on the bench for coach Tony Bennett.
The importance of Diakite in the Cavaliers was not noticed until the 2018-19 season, when the university won the NCAA title. With De'Andre Hunter (Atlanta Hawks), Ty Jerome (Phoenix Suns) and Kyle Guy (Sacramento Kings); he averaged 7.4 points, 4.4 rebounds and 1.7 blocks per game and was instrumental in March Madness' (university playoffs) victory to the title of national champion, a first in history from Virginia. A strong leaping winger, effective on transition, the Guinean stood out by scoring the equalizer basket against Purdue in Elite 8 to snatch the overtime, and turning to 10.5 points, 8.2 rebounds and 2.7 blocks average.
In the current season, 2019-20, Diakite has shown to have reached a great maturity on the field. He has improved his defensive movements on the field and is now also an excellent three-point shooter. At the time of writing, he had an average of 13.4 points at 47.3% shooting success, 6.7 rebounds and 1.2 blocks in 32 minutes per game. He still has a performance of 35.4% success in three-point shooting.
The opinion of Cyrille NGARIO, member of international journalists accredited by the NBA.
Those who followed the path of Virginia's title in 2018-19 saw the potential of Mamadi Diakite. Although his averages are not excellent because they do not really reflect his activity, the Guinean played on the ground as a defensive leader of his team. He is listed as a winger in several media, but he gradually moves to position 4 (strong winger), probably what he would do best, but it all depends on the needs of the team where he will start his professional career. If selected in the 2020 draft, I think the first round would be a good place to enter the NBA even if the second round is not inevitable either. One thing is certain, Mamadi Diakite did not leave anyone indifferent during the 2019 combination and the elite camp of Nike in which he finished in the top four. This year there is a good chance that he will be invited among the 63 potential candidates for the NBA Draft Combine 2020.
Limited in coach Tony Bennett's less attractive game system, many people will discover Diakité's true potential later when he joins the North American league. Often underestimated, misjudged like most African athletes from 2m06 in their beginnings as a guy who does "the dirty work" of the team, Diakite actually hides a potential that has no limits and that n '' has nothing to envy to NBA stars like Kevin Durant, Kawhi Leonard, Draymond Green and Paul George who are all players capable of shining from both ends of the field (attack and defense).
With a record of 19-7 including 11-5 in the ACC, Virginia should unsurprisingly play the Conference semi-finals after the last four games of the regular season against Virginia Tech, Duke, Miami and Louisville. If all goes well so far, Mamadi Diakite will probably be elected National Defender of the Year and also Defender of the Year in the CCA. In my opinion, he is also in the running to be named in the first typical ACC team of the season. But above all, I think Diakite wants to offer the ACC title to Virginia and return to the Final Four for his last academic year, these are the first goals he set for himself. Knowing his team spirit, Diakite is already ready for this last challenge scheduled for next March and I hope that Tony Bennett will charge Kihei Clark and Braxton Key to force-feed him with balloons in attack because without him, as much to tell you already that Virginia n 'will not go far in March Madness.